Na Rublyovke and Novosti na Novoi Rige Celebrate Maslenitsa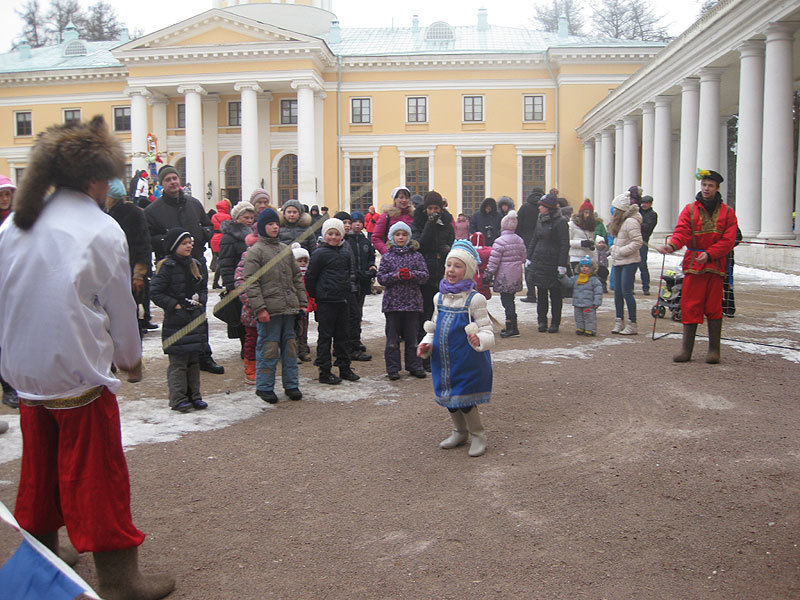 The Arkhangelskoye Palace museum and estate held a large-scale Maslenitsa (Shrove Tuesday) celebration in cooperation with the Na Rublyovke and Novosti na Novoi Rige newspapers.
In the inner courtyard of the estate stood a colorful Maslenitsa effigy and a nearby stage for performances by the Besedushka Folk Ensemble, Zhar-Ptitsa (Firebird) folk song ensemble, the Talyanochka duet and the Volnaya Rus (Free Russia) Cossack Ensemble. The Na Rublevke and Novosti na Novoy Rige newspapers and Harlequin Show animators stood on the Skomoroshya Polyana (Fools' Field) and invited guests to shoot bow and arrows and jump over a giant jump rope. Elsewhere on the estate, the White Lynx club for historical reenactments taught visitors how to throw spears at a target and the proper way to hold a sword and bow. Nearby, a blacksmith assisted people to use a hammer and anvil to forge their own creations, such as a horseshoe for good luck.
Visitors rode on horse-drawn sleighs and dogsleds throughout the territory of the estate. At a food fair, guests showed particular interest in candies and cakes of all sorts, as well as shish kebab, crepes, tea and mulled wine. The celebration ended with everyone joining in for a Maslenitsa round dance.