Men's & Women's Health Fest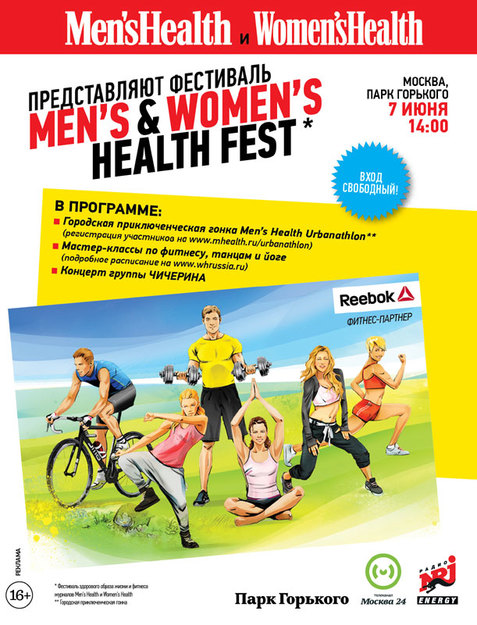 Men's Health and Women's Health magazines invite everyone to the Men's Health & Women's Health Fest that celebrates healthy lifestyles. The event will be held June 7 in Gorky Park with support from fitness partner Reebok. The Men's Health Urbanathlon adventure race will be held at the festival. Top trainers from the ReebokOne chain will also be on hand to conduct exciting workshops and Women's Health magazine will conduct a variety of useful and interesting activities for guests.
Men's Health Urbanathlon is a unique race staged in every country where Men's Health magazine is published. The first race was held in New York in 2008. Russia hosted its first Urbanathlon in 2010 and has held it annually ever since in either Moscow or St. Petersburg. This year, the race route is set in Moscow's Gorky Park, against the backdrop of the Neskuchny Garden and the Sparrow Hills. The competition is expected to draw approximately 1,000 participants and another 10,000 spectators, fans and guests of the Men's & Women's Health Fest.
The race includes a 12 km cross-country run and six artificial barriers that contestants must overcome. Men and women compete in separate categories. Registration costs 500 rubles and continues through June 1 on the site www.mhealth.ru/urbanathlon.
This year, six winners in both the men's and women's categories will receive a total of 210,000 rubles in prize money. The First- through Sixth-Place finishers will win 30,000, 25,000, 20,000, 15,000, 10,000 and 5,000 rubles respectively, along with complimentary gifts from event partners.
Women's Health magazine will organize several special sites at the race venue where visitors can get advice on the most progressive fitness trends, fashionable hairstyling, manicures and massages, and also stop by a popular beauty brands corner. An assortment of delicious smoothies and snacks will be available to help guests recharge their batteries.
Following the Men's Health Urbanathlon adventure race awards ceremony, everyone will enjoy a rousing concert by the Chicherina and Nizkiz groups.
Festival admission is free.