New Lessons in the Wedding School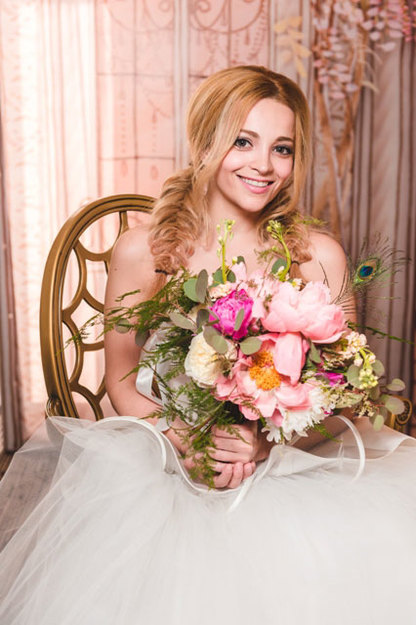 Wedding magazine held the latest session of the Wedding School on June 1 in the Azimut Moscow Olympic Hotel. The Wedding Atelier agency served as co-organizer.
Decorators from the Natalia Bronnikova's Flowers and Décor company festooned the hotel's large "Moscow" hall for the event, and musicians from the Arfasound project provided a pleasing atmosphere.
Guests took great interest in listening to specialists from the Wedding Atelier agency explain the main components of preparing a wedding. Decorator and florist Natalia Bronnikova spoke about interesting floral arrangements. Azimut Moscow Olympic representative Anna Gumanova told guests about the hotel's wedding services and its special wedding package offer for honeymooners.
As host for the event, Yevgeny Sules spoke about the role of the master of ceremonies at a wedding ceremony and the best way to go about selecting one. A workshop titled "The subtleties of printed products for weddings" inspired guests to create truly original wedding invitations and a talk by MagicBride directorSergei Satkar undoubtedly helped guests create wedding videos they will be able to show their friends and family with pride.
Wedding photographer Marina Muravnik told participants how to find a photographer that is just right for them, what to look for in a photographer's portfolio and what is most important in the wedding photo shoot. Representatives of the I Do wedding salon demonstrated the best wedding dresses — one of which actress Teona Dolnikova modeled for the guests — and spoke about the latest trends. A make-up artist from Beauty Catering Peggy Sue provided the hairstyles and make-up for the event.
During the break, guests listened to the energetic and rousing compositions of the Joyful Band. After that, students could participate in a workshop for applying designs and decorations to glazed gingerbread. Participants could also take home photos from the event thanks to a printer provided by Insta Box and the Mobile Bar Barstars entertained guests with a fascinating barman show.
Family psychologists Natalia and Dmitry Pitchenko spoke about the preparation period for a wedding, how to cope with stress and how to find a common language with relatives and each other. Wedding choreographer Sergei Derechev not only explained how to create and perform the couple's first dance, but provided a demonstration with the help of a pair from among the Wedding School participants. Olga Provotorova, who organizes weddings in Venice, shared some of the finer points of matrimonial celebrations in that wonderful city. Guests also learned about stories and traditions associated with wedding clothing — for example, that the bride should wear two garters.
At evening's end, each guest received a complimentary gift and enjoyed a delicate cake prepared by Azimut Moscow Olympic Hotel confectioners.