Cosmopolitan Psychology Held "Marathon of Confidence"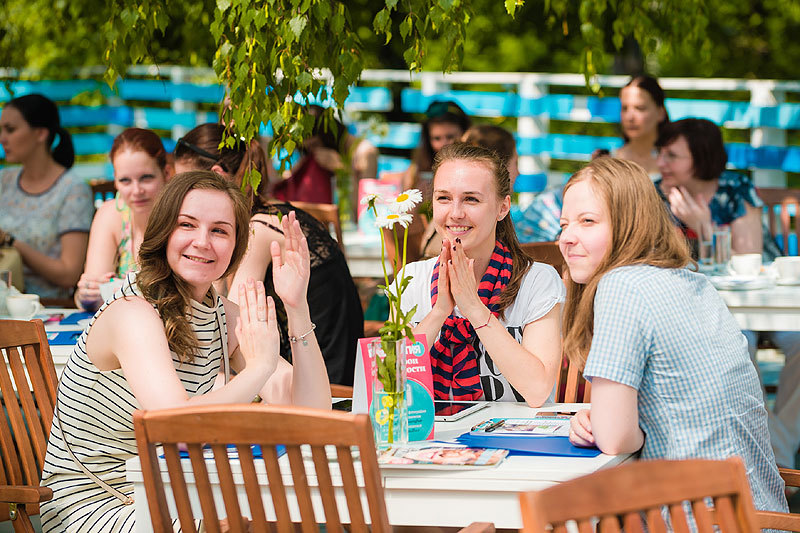 Cosmopolitan Psychology held a "Marathon of Confidence" devoted to a special issue of the magazine – the "How to become more confident" workbook. The event took place on May 25 on the veranda of the More Vnutri ("The Sea Within") café.
Like the special issue, the Marathon of Confidence consisted of three parts: self-confidence, confidence in a man and confidence in the future.
During the first session, marathon participants created a "balance wheel" – a visual image of their own life that helped them understand what they want in the future and how they can achieve it. Psychologist, writer and personal coach Inna Gulyayeva helped guide participants through the process.
Image expert, stylist and psychologist Maria Krasilnikova spoke about the connection between image and self-confidence and gave recommendations on how to make the right first impression. Miss Sport 2013 Anna Milyayeva conducted a workshop "How to walk on high heels" and taught young women the finer points of the art.
In the second session, family psychologists Milana Tikhonova and Denis Burchakov suggested that guests explore the question of how they display love and how they understand that they are loved. It turns out that we all show our feelings using five common languages of love and tenderness.
In the third session, business coach Alexander Shumilin helped participants identify their professional calling and how to enjoy what they do. He also gave some very valuable advice: In life, one should only do what brings happiness.
Next, Elena Vinogradova, jobseekers portal Superjob.ru director for, gave participants advice on how to find their dream job and offered recommendations on the job interview process and how to answer a potential employer's unexpected questions. The event ended with a presentation by beauty expert, television host, writer and psychologist Yana Laputina. She shared the secrets of her success and gave some very worthwhile advice: The most important thing is to believe in yourself and never give up.
Over the course of the day, participants could use the Instabox service to make instant photo prints from Instagram using the hashtag #cosmopsy_marafon.
The most active participants during the event received prizes from the French organic cosmetics brand Melvita. All the young ladies also received complimentary gifts from Cosmopolitan Psychology magazine and the Amorem project.