Bike Trip with Cosmopolitan Psychology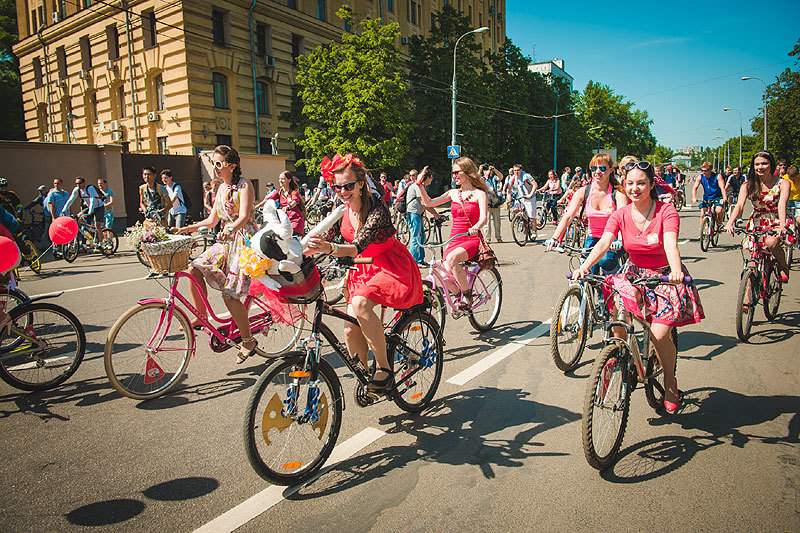 Cosmopolitan Psychology magazine served as media partner to the "Viola-run" event held as part of the citywide "Velobulvar" (Cycle Boulevard) festival.
Women who like bike riding, representatives of the "Lady on a Bike" community and journalists took part in the event. Kristina Kosovayte – popular fashion blogger, stylist and designer of the eponymous Kosovayte Design brand – led the convoy of lady bikers.
All of the participants enjoyed an interesting interactive program. In order to make the bike ride stylish and colorful, image studio experts helped the young women create fashionable "vintage" looks and each guest who showed up at the festival wearing red was entered in a drawing for an Electra bicycle.
Cosmopolitan Psychology magazine also presented awards in two categories: "Most Active" and "Most Positive." The winners received valuable prizes, including a one-year subscription to Cosmopolitan Psychology magazine, the Workbook special issue and an Amorem bracelet with a silver charm.
Participants at the ride venue who took a test on the iPad version of the magazine created the "Map of Change" with the help of coaches Lyudmila Gorodnicheva and Yulia Arbatskaya. The map helped the young women determine which aspects of their lives they wanted to improve, find inspiration, focus on change and start following their dreams.