Yes! at Faces & Laces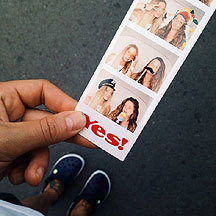 Yes! magazine participated in Faces & Laces, an interactive exhibition for alternative street art and subcultures held in Gorky Park.
Within the exhibition, Yes! installed a photo bus where guests could take instant pictures, publish them on Instagram using the hashtag #yesfaceslaces, and receive special gifts from the magazine.
The Faces & Laces exhibition was held in Moscow for the eigth time. The exhibition included interesting stands with unusual clothing and street food, areas for skateboarding, basketball and longboarding, an exhibition of Russian and foreign street artists and performances by American, European and Russian musicians.