The 2014 National Geographic Traveler Awards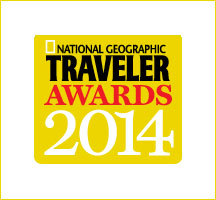 National Geographic Traveler magazine is extending online voting until November 10 for its awards for the best tourist destinations and most popular forms of recreation.
As part of the 2014 National Geographic Traveler Awards, contest partner Jaguar Land Rover will present a special award in the category: Time for Discovery with Discovery Sport. Readers are invited to submit interesting routes for road trips suitable for large families or groups of friends. The winner will receive a certificate to attend a 3-hour Land Rover Experience course on off-road driving. Jaguar Land Rover will also present special prizes to the person submitting the best route.
Find the results of the voting at www.nat-geo.ru and in the November 2014 – January 2015 issue of National Geographic Traveler magazine.