Vedomosti Gathers Captains of Business for Sailing Event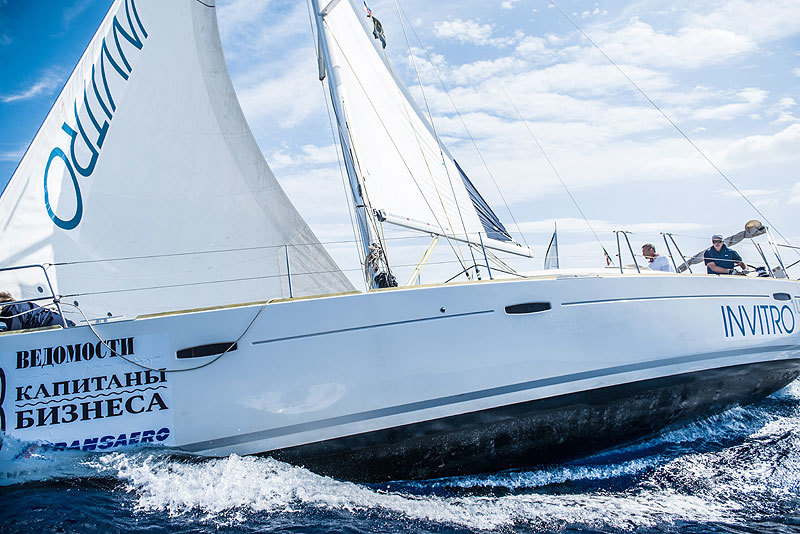 The third annual Vedomosti Cup corporate regatta organized by the Vedomosti and Moscow Times newspapers was held off the coast of Sardinia in late September.
The first day of the regatta opened with a Vedomosti conference on the panoramic terrace of the five-star Sporting Porto Rotondo  hotel. As team members exchanged views on the economic situation in Russia, a phrase emerged that became the motto for the event: "Survive, win and never lose your nerve."
The teams posed for a group photo before beginning the competition. The Dentex team won the first day of the race and everyone gathered for an evening program at the Hotel Petra Bianca that featured an exhibit of the best photos of National Geographic Traveler magazine.
Strong winds featured on the second day, and throughout the one offshore and two onshore races the boats cut through the water at a steep angle, with the skippers continually calling fpr their crews to "trim the sails" or "ease out." After a day of high drama, the teams retired to the Porto Cervo marina for dinner and a presentation by Vedomosti at the Santa Esmeralda private yacht club.
On the third day it rained so hard that the boats pitched on the waves and the sailors were alternately drenched by rain and salty ocean spray. The offshore race scheduled for that day had to be canceled, but the teams sailed two exciting short races in its place. On the fourth day the strong winds died out. The morning kicked off with a photography workshop by National Geographic Traveler editor-in-chief Alexander Zheleznyak. Once offshore, the sailors found almost no wind, resulting in all the boats sitting completely becalmed. After waiting for two hours for the wind to pick up, organizers canceled the day's race.
The day ended in the tiny town of Porto Massimo. In the best local restaurant, The Moscow Times publisher Ekaterina Movsumova and editor-in-chief Nabi Abdullaev gave a presentation of their newspaper. Everyone then moved onto the restaurant's terrace where they launched hundreds of Chinese lanterns into the night sky.
The final day saw one long and one short race and ended with a gala dinner and awards ceremony at the Sporto Porto Rotondo. The Tenzor team won the honors as the most professional and successful team, with second place going to the Dentex team. Third place went to the Business FM team that included representatives of Trust Bank, Transaero and Macallan.