2014 National Geographic Traveler Awards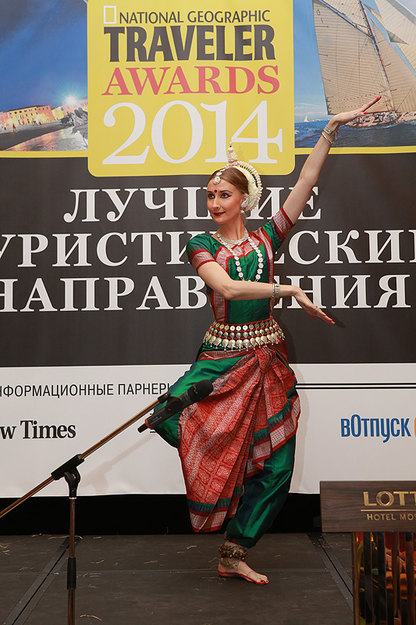 National Geographic Traveler magazine presented the results of the online voting for the 2014 National Geographic Traveler's Awards that selected the best travel destinations for each of the most popular vacation types. The awards ceremony was held on November 20 at Moscow's Lotte Hotel on Novinsky Bulvar.
The website www.nat-geo.ru has conducted the annual online vote since 2011. From June through November more than 230,000 people cast their votes for the best travel destinations in 18 categories, with several new additions this year, such as Discovery of the Year and Best City for Shopping. The Newby and Jaguar Land Rover companies served as partners to the contest this year.
The awards ceremony brought together tourism office representatives from a variety of embassies as well as the directors of major travel agencies, airline companies and hotels. Renowned television reporter Mark Podrabinek served as emcee for the ceremony and National Geographic Traveler editor-in-chief Alexander Zheleznyak presented each of the awards. In the breaks between the announcements, guests enjoyed thrilling performances by the African music group Sofoli, a group of traditional Indian dancers presented by the Indian Embassy, kalamatiano and hasapiko dances by an ensemble from the Greek Culture Center and performances by members of the AbadaCapoeira School.
Greece was named Best Beach Vacation, Italy took the honors for Best Vacation with Excursions and Austria won Best Winter Vacation. Voters chose New Zealand for Best Ecotour and Nepal for Best Adventure Vacation. The Altai Mountains took first place for Best Tourism in Russia and Crimea was awarded Best Discovery of the Year. Kyrgyzstan was selected for Best Tourism for Health, Greenland was named Best Exotic Vacation, Milan won for Best City for Shopping and the Dubai International Airport took the top spot as the Best Airport in the World.
In addition, Cathay Pacific was awarded Best Foreign Airline, Aeroflot was chosen as Best Russian Airline and Royal Caribbean International won Best Cruise Company. The PosadasGroup took first place as Best Hotel Chain, Pososhok.ru was singled out for Best Internet Service and Moya Planeta (My Planet) won for Best TV Travel Channel.
British tea company Newby presented an award for Most Amazing Tea Party and Jaguar Land Rover named a winner in the Time for Discovery with Discovery Sport category. Newby gave awards to five winners: Daria Sandovich, Elena Kadutskaya, Olga Saltykova, Anastasia Velikzhanina and Ada Gorbunova, who gave a superlative-filled description of her most amazing tea party ever. Jaguar Land Rover gave Alena Dudashvili a certificate to attend the Land Rover Experience off-road driving course for her presentation of the most exciting route for a road trip with the family or a group of friends.
Read the results of the voting in the November-January issue of National Geographic Traveler magazine when it goes on sale November 25.