Family Festival with Na Rublevke Newspaper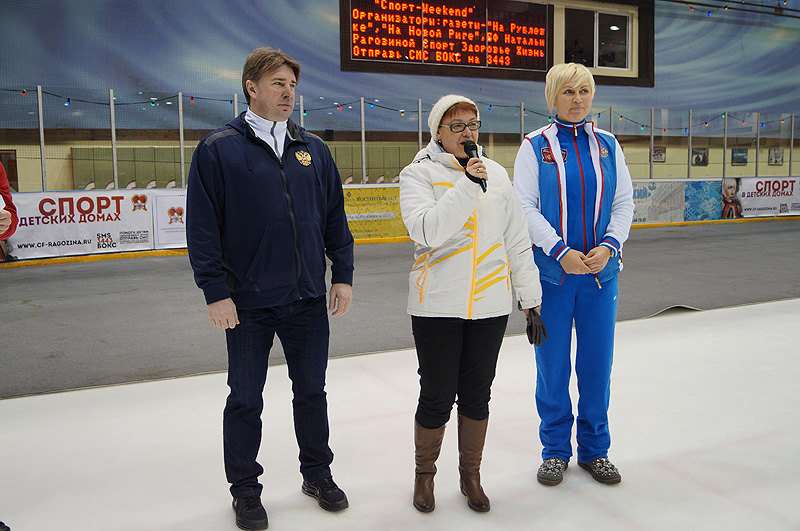 The Na Rublevke and Novosti na Novoy Rige newspapers, together with Natalia Ragozina's Sport Health Life charitable foundation, held the Sport Weekend family festival at the Katok.ru ice complex. 
Seven-time world women's boxing champion Natalia Ragozina, Soviet hockey star Alexei Kasatonov and publisher of the Na Rublevke and Novosti na Novoy Rige newspapers Galina Ustinova were on hand to greet the guests as they arrived. Lomonosov School students performed a dance on a special carpet on the ice and the Pride company held a fashion show of Maier and Killy sportswear. 
Introductory workshops on curling and ice hockey were conducted and during breaks in activities, Maria Uspenskaya, Maria Lagutina and Anisya Chernonog of the Stanislav Zhuk School of Figure Skating performed on the ice.
The festival continued with "Fun Starts" relay race in which teams led by Natalia Ragozina and Alexei Kasatonov competed for gifts from the Kant chain of sporting goods stores, the Dary Zabaikalya company and the Miksvil online candy shop.
The Odintsovsky Center of Preschool Development, Olenenok, created a children's play zone and mini-cafe with pastries and tea on the ice. Life-size puppets from the Chameleon Emotion Study greeted guests as they entered the ice complex's foyer. In the same location, the Natalia Rogozina charitable foundation auctioned off items from famous athletes, including from Rogozina herself, and raised funds from the sale of souvenirs. The 57,000 rubles raised was used to buy boxing equipment for the children of Moscow orphanage No. 12, one of the institutions participating in the Sport in Orphanages program. 
Sport Weekend ended with ice skating and a lottery organized by the Creative International agency in which everyone went home a winner. The PremierMedica clinic presented certificates for medical and cosmetics services, the EcoBike company presented bicycling backpacks with warning lights, the Modnye Ludi and Mazhiart beauty salons offered certificates for their services, the Nosorog company provided Slike oral care products and the Dr. Sergei Popravko laboratory gave away their creams.