The Moscow Times Awards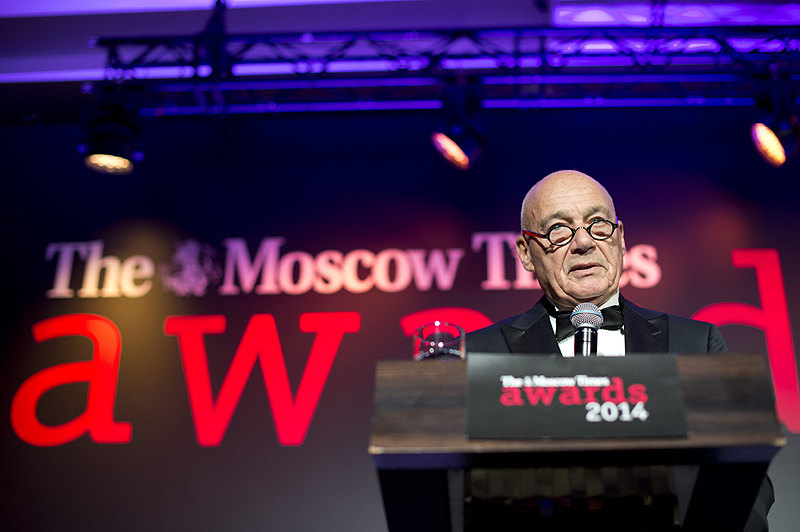 The Moscow Times newspaper brought together members of Moscow's business and cultural elite on December 10 at the Lotte Hotel to honor their most outstanding achievements in 2014.
An expert council chose the winners of 12 categories for their contribution to improving life in the Russian capital. The council composed representatives of foreign chambers of commerce and international journalists from leading foreign media with representation in Russia, including The Moscow Times, he Financial Times, Voice of America, New York Times, Moscow FM. Newspaper readers voted online to select the Moscow Times Person of the Year. The Moscow Times also partnered with Swiss management consultants Brainforce to present a special Best CEO of 2014 award.
Renowned television journalist Vladimir Pozner served as master of ceremonies, kicking off the evening by announcing the Best CEO winner. The rating of Russia's top managers focused on 20 individuals. They include Sergei Galitsky (Magnit), Vitaly Savelyev (Aeroflot), Fyodor Rybasov (Dixy), Sergei Kalinin (Hals Development), Vladimir Salamatov (World Trade Center Moscow) and others. Swiss Ambassador to Russia Pierre Helg presented the awards in this category.
The evening's guests included executives and top managers of major Russian and international companies such as Siemens, Nestle, PhilipMorris, Dentex, RollsRoyce, Raiffeisenbank, L'Oreal, Pfizer, MasterCard, LVMH MoetHenessy, Walt Disney, PWC, HP, Renault, Otkrytiye Bank, Transaero, MTS, TRUST Bank, Gazprom Bank and more. Also on hand were ambassadors and advisers from Switzerland, France, Great Britain, Argentina, Mexico, Italy, Spain, along with the award nominees themselves and a number of eminent cultural and business figures.
DigitalOctober general director Dmitry Repin presented the award for the best education project and the president of LotteRus and the Association of Korean Businesses in Russia Yang Sok presented the award for best investment in the Russian economy.
The official BMW dealership, the BorisHof company, the Tenzor Consulting Group, the Spectrum tour operator, MTS and long-time Moscow Times business partner Roca served as official partners to the event. 
The evening's  winners were:
Person of the Year: Andrei Konchalovsky – Soviet, Russian and American film director, screenwriter and social and political activist.
Person of the Year in Culture: Andrei Zvyagintsev – Russian film director, actor and screenwriter.
Best Contribution to City Improvement: Boris Volpe – Maxima Telekom CEO and winner of the tender to provide free Wi-Fi in the Moscow metro.
Foreign Investment: the Lafarge group of companies in Russia.
Country of the Year: France.
Best Business Event: The Moscow 2014 Global Entrepreneurship Congress (GEC 2014).
International Project in the Field of Social Responsibility: MTS and its project Network for All Ages.
Best Cultural Event: The Krug Sveta (Circle of Light) Festival.
Humanitarian of the Year: Doctor and therapist Alevtina Khorinyak, for improving the provision of painkillers to seriously ill patients.
Best Cultural Center: The Jewish Museum and Tolerance Center.
Best Business Center: The Belye Sady (White Gardens) Business Center.
More about the awards and nominees can be found at www.themoscowtimes.com/awards2014.