Men's Health in January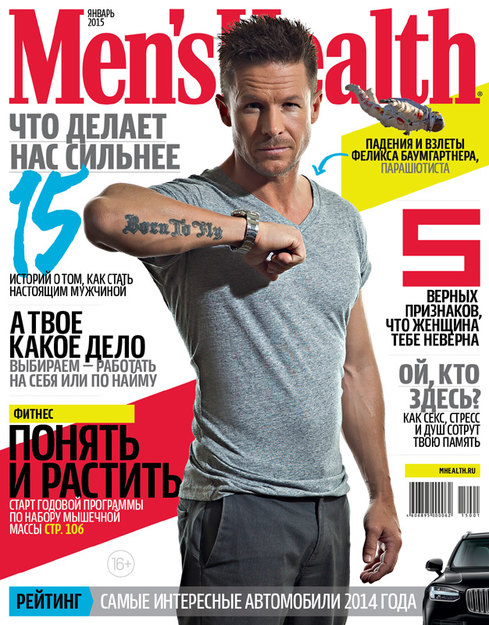 The cover of the January issue of Men's Health magazine features the wild and fearless Felix Baumgartner. Learn about his fascinating life story in the Man on the Cover story.
The main theme of this issue is the difficult moments in people's lives that have helped them become wiser, stronger and better. What would you do if you learned that a friend is terminally ill or that you have to deliver an important public speech? What if you got into a serious accident, decided to leave your girlfriend, got into a fight with bullies or received an unexpected promotion at work? What is the right way to respond in each of these situations? How can one always be ready for the next phase of life? Find out in the article "The moment that changed everything." In addition, read four stories about men who remained positive, even in the face of adversity. The featured individuals include Lionel Messi and Floyd Mayweather Jr.
Also in this issue:
Unusual ways to use a conventional drill;
Ice sculptures;
An express check-up for your relationship with your lady;
The subtle art of roasting a turkey;
Hyper-sex with hot wax, ice cubes and electrodes;
How to survive the cold weather;
Five sure signs of female infidelity according to Arina Vintovkina;
A colorful report from Florence, where every year big burly men play a bloody form of football known as "calicostorico;"
An amazing story about how showering after sex can erase one's memory;
An exciting walk around Spitsbergen;
The first steps in a year-long workout program to gain muscle mass.
The January issue also includes a new column "There's a Place" that focuses on beautiful but dangerous locations that attract mountain climbers, divers and other daredevils. The first installment surveys Elbrus, Russia's highest peak.
The magazine also includes the traditional New Year's gift for readers – a Men's Health calendar.
The January issue of Men's Health went on sale December 16.