Cosmopolitan Psychology in March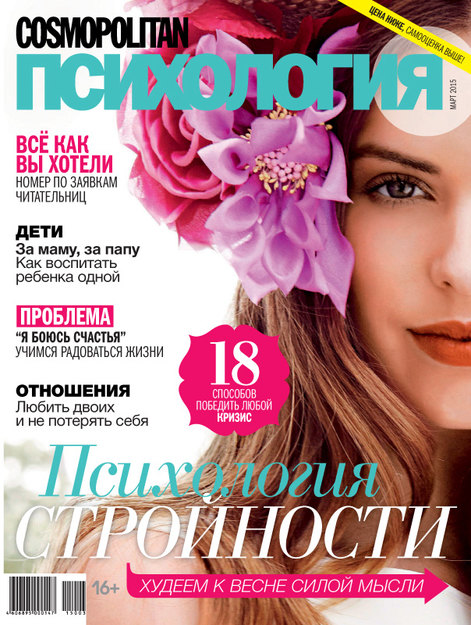 The new issue of Cosmopolitan Psychology, put together according to readers' wishes, is now on sale. In October the publication conducted a reader survey to find out what subjects they wanted to know about the most. Editors tried to answer the most popular questions and to explore the most exciting topics suggested by readers.
Also in this issue:
The psychology of thin: spring fever – how to become slimmer through the power of thought;
Self-awareness: how to overcome fear and enjoy well-deserved happiness without compunction;
Interview: actress Yulia Perisild describes what she had to endure filming "Battle for Sevastopol";
Why is unhealthy food the most tempting? How to convince your brain to crave wholesome foods;
Rules of the game: should we accept our shortcomings or strive to eliminate them from our lives?
Relations: a set of questions to determine how to make the right choice if you are in love with two men;
Children: problems between fathers and children – expert advice on raising a child alone;
Dilemma: should you change to make your man happy or break up with him?
Career: how to realize your potential and benefit from crisis;
Joys of spring: fashion trends, the best new beauty products and a fresh palette of fragrances.
The March issue also presents the results of the Dreamboard competition, with six deserving winners.
This is the last print issue of Cosmopolitan Psychology as a stand-alone magazine. Its content will subsequently be integrated into Cosmopolitan magazine.