Men's Health and Women's Health Team Face Endurance Test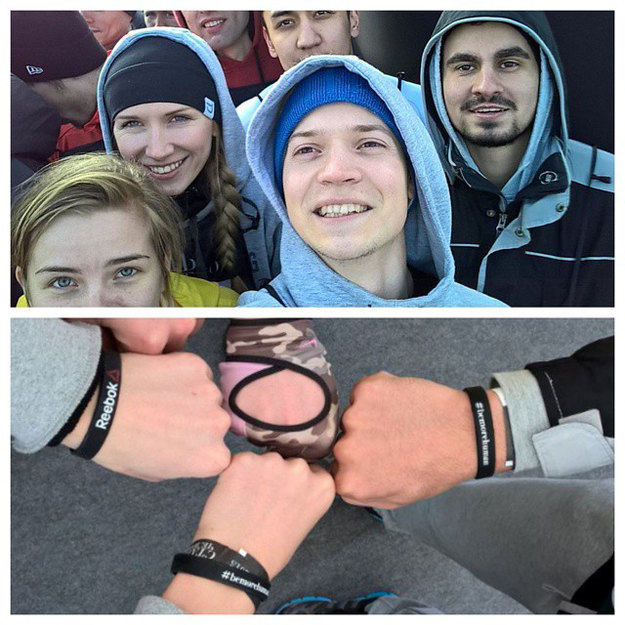 A team of from Men's Health and Women's Health magazines took part in the Reebok race held on February 21 at Poklonnaya Hill in the center of Moscow.
The race, which included outdoor obstacles saw about 1,500 other participants test their potential and break out of their usual routines, pushing participants to leave their comfort zones, challenge themselves, expand their awareness and fortify their spirits by pushing the limits of their physical strength.
The friendly atmosphere, energetic music and bright sun helped runners rev up for the race, while the brisk breeze and stiff competition kept everyone poised for action. After the race, hot tea and a special field kitchen brought the tired participants back to life. The mixed men's and women's teams of up to six members fought for victory over a 3-kilometer route with 10 obstacles. The participants carried logs and sandbags, climbed over walls, squeezed through narrow tubes, turned over tires weighing 120 kilograms, ran, jumped and did as many chin-ups and squats as they could in the time allowed. Qualified instructors monitored each stage of the competition.
While the athletes were testing their mettle on the Reebok track, guests could visit a heated tent in the start area and receive fitness tips from professionals, test their strength and win prizes by participating in workshops on rowing, boxing, squats and weight lifting.
The event was held under the auspices of the new Reebok campaign "Become Someone," which aims to unite everybody using fitness to change their lives by encouraging the development of their social, intellectual and physical dimensions too.