Men's Health in April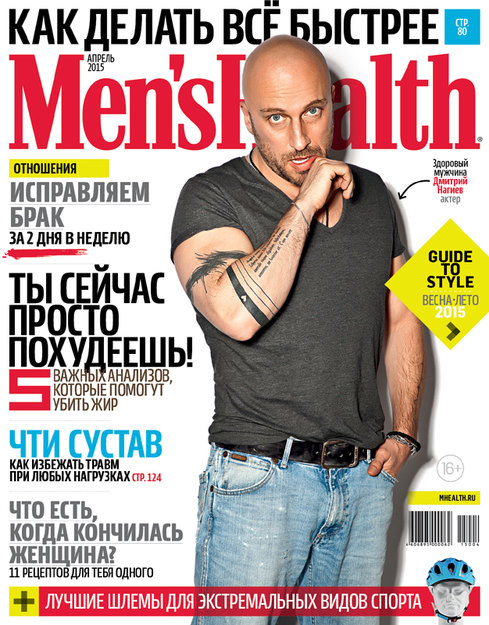 The cover of the April issue of Men's Health magazine features popular actor and TV anchor Dmitry Nagiyev, who speaks to the magazine about the difficulties and excitement of being a real man in Russia.
Also in this issue:
That small but rewarding evening bottle of beer;
The story of how the great weightlifter Vasily Alexeyev set an unbeatable record at the 1972 Olympics;
A good reason to include scallops in your diet;
Instructions on how to raise your namby-pamby son to become a strong man;
An Adidas Skateboarding expert gives four good reasons to ride;
New data on how female orgasms occur;
In the regular column "There is a Place":
 all about the heroic crossings of the English Channel;
Important tips on how to climb the career ladder in tough economic times;
The large section "How to Do Everything Faster" explains how to cut through crowds, win at Monopoly, wash your dog and choose clothes;
How to revive a lifeless relationship with the lady in your life;
A collection of simple and savory recipes for bachelors;
Detailed instructions on how to prepare your body for weight loss;
Notes by Kirill Vishnepolsky on the alluring flora and fauna of Mauritius island;
Choosing the right helmets to prevent trauma in contact sports.
In the Personal Trainer column, find the new installment of the year-long program for building muscle mass. At the start of the fourth month: working on the back and hamstrings.
The issue also includes a 26-page "Spring-Summer 2015 Style Guide," with a feature on the importance of color.
The issue went on sale on March 17.