National Geographic Traveler Photo Tour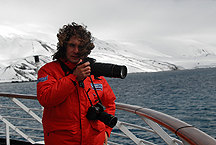 National Geographic Traveler magazine and the Rosa Khutor alpine ski resort present the School of Alpine Photography. The project will interest novice photographers as well as those with more experience wanting to improve their craft. Speakers at the school will include Russian and foreign travel photography professionals as well as local photographers who work day in and day out taking photos along the slopes, and who know every feature about the mountains across the seasons.
The project includes a "Travel Reporting" photographic tour of the Rosa Khutor resort with National Geographic Traveler chief editor Alexander Zheleznyak on April 3-5. Participants will learn how to take pictures in different weather and lighting conditions and about the techniques that work best in the mountains. Each day of the photo excursion will be filled with practical lessons, a detailed analysis of the day's pictures and informal discussions where participants will learn the secrets and distinctive features of professional travel photography.
Learn more details, rules about participation and sign up for the photo tour at www.nat-geo.ru and www.rosaphotoclub.ru.