Anniversary Issue of Men's Health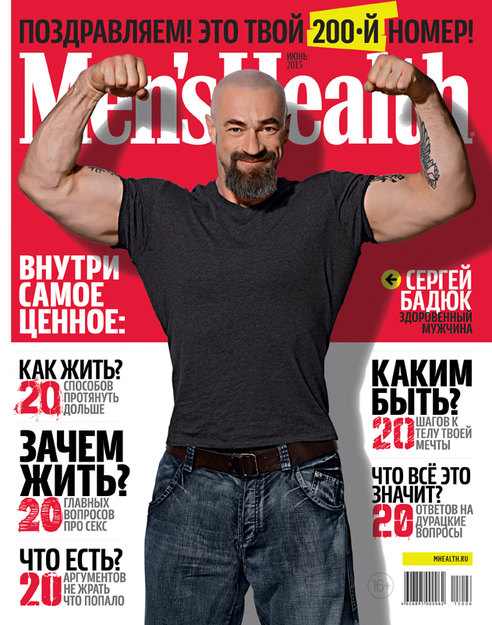 The 200th jubilee issue of Men's Health magazine has been released, featuring Sergei Badyuk, a master of six sports, commando, FSB officer, top manager of a manufacturing company, television host and actor who tells six seemingly unbelievable true stories from his life.
In the Adventure section, take a 1,000-kilometer journey from Tyumen to Kambarka in the cab of a tractor. The Personal Trainer section continues the year-long program for building up muscle mass, this time focusing on the deltoids and quadriceps.
The magazine also includes a the major MH 200 special section that looks back at the best material from its past 17 years.
The 20 rules for a normal life: how to live well, feel at ease and fall sick less often;
The past 199 issues have provided ample advice on how to interact with women – now it's time to pass the exam;
Food store: the 20 ingredients you need in your culinary arsenal to be sure you'll never go without dinner;
The 20 principles of a strongman: how to build your dream body;
20 answers to widely differing but also very important questions.
Also in this issue:
How to prepare cuts of beef to make delicious steaks at home;
Choosing the right backpack for your first big hiking trip;
How to work your way to the stage at a rock concert;
Two simple tasks for testing and developing your memory;
An experienced boxer explains how to fend off a left-handed adversary;
The story of Russian Legion, one of the best paintball teams in the world;
A reporter's experiment: 28 days without alcohol;
The amazing Putorana Plateau in the section There is a Place;
Definitive instructions on what to do if you have to deliver a baby;
A report from the record-making off-road rally on the ice of Lake Baikal;
Closely guarded secrets of the opposite sex: what women find most annoying about men.
The magazine went on sale May 19.