Men's Health in October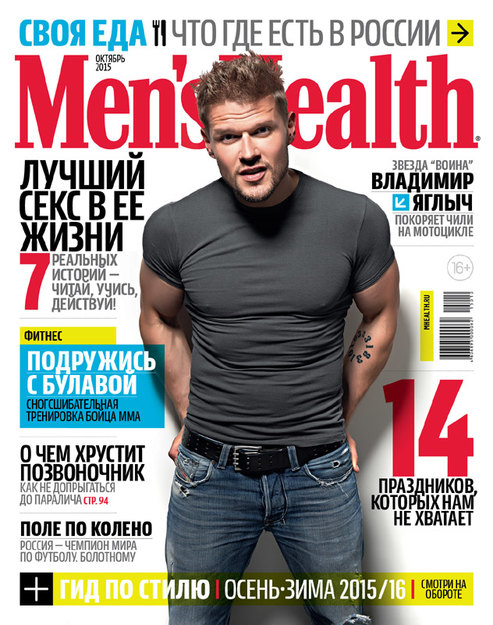 In October, Men's Health magazine reports on super hot sex and the right way to choose a wardrobe for fall. This month's cover features film star Vladimir Yaglych, who talks about his role in the film "Warrior" and his 3,500-kilometer motorcycle road trip from Chile to the very tip of South America.
The special Style Guide for Fall-Winter 2015/16 section will detail how you can put together a comfortable and presentable daily wardrobe, and the right way to choose shoes. The Personal Trainer section includes the fifth stage of the 12-month training program to build up muscle mass and a bonus training session straight from the Fight Nights fight club.
Also in this issue:
How to cook eggs in a microwave;
What to look for when choosing toothpaste;
Visual aids showing how to use a smartphone or tablet on public transportation;
The athletic feats of Soviet runner Valery Borzov;
The many virtues of swamp football;
The treacherous Norway's Troll Wall;
More reasons to like chicken;
Seven women describe the hottest sex of their lives;
A gutsy report of what it means to have a herniated disc;
A continuation of the gastronomic guide to Russia;
The difficult ascent up Mount Kazbek to plant the Men's Health flag.
The October issue of Men's Health went on sale September 15.