The Moscow Times Honors Outstanding Achievements in 2015 Awards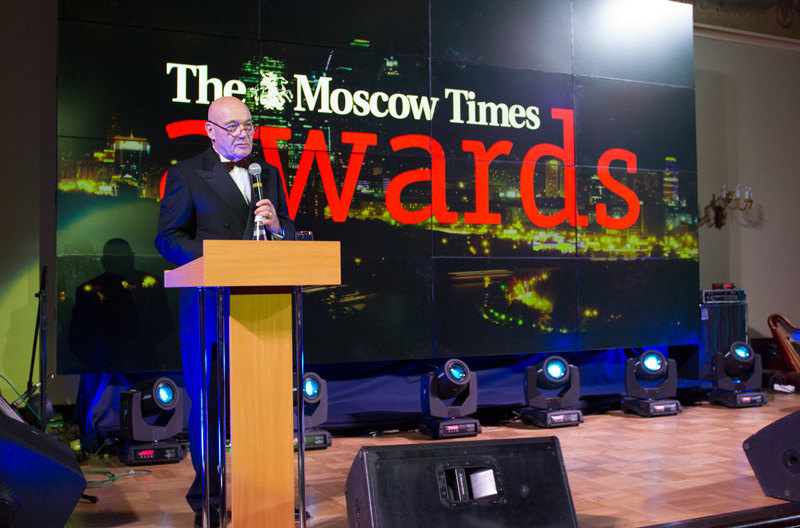 The Moscow Times brought members of the Moscow business and cultural elite together on December 2 at the Metropol Hotel to honor their most outstanding achievements in 2015.
An expert panel chose winners in 13 categories for their contribution to improving the image of Russia overseas. The panel included representatives of foreign chambers of commerce and journalists from leading foreign media with representation in Russia, including The New York Times, The Moscow Times, The Guardian, Les Echos, Le Monde and Moscow FM. Newspaper readers voted online for the Moscow Times Person of the Year.
Renowned television journalist Vladimir Pozner served as master of ceremonies and offered a warm welcome to the nominees and their guests. The event kicked off with a video remake of the song "Wind of Change" starring editors and journalists from The Moscow Times, as well as representatives of Moscow's international community. The video depicted the ongoing evolution of life in Russia's capital city.
Guests at the ceremony included executives and top managers of major Russian and international companies such as Volkswagen, Ferrero, Samsung, Ford, Sberbank, Yandex, Rambler & Co., MTS, Russian Post, Mosgortrans, Raiffeisen Bank, VTB Capital, MasterCard, Moet & Hennessey, Deloitte, BCS, Gazprombank and more. Also present along with the nominees were ambassadors and advisers from Switzerland, France, India, Argentina, Indonesia and Spain, and a number of eminent cultural and business figures.
Roca, a leading manufacturer of bathroom furnishings, legal firm Tenzor Consulting Group, J & T Bank and BCS Broker served as official partners to the awards ceremony.
The winners of The Moscow Times Awards 2015 are:
Investor of the Year: Schneider Electric;
Country of the Year: Switzerland;
Business Angel of the Year: Igor Ryabenky;
Strategic Venture Investor of the Year: Sberbank;
Business Event of the Year: VTB Capital's annual "Russia Calling!" investment forum;
The Moscow Times Special Award: St. Petersburg International Economic Forum foundation for its contribution to the development of Russia's image abroad;
Business Center of the Year: Bolshevik;
Best Corporate Social Responsibility Project of the Year: MGTS' (Moscow City Telephone Network) Dobroye Delo (Good Deed) charitable campaign;
Best Cultural Event of the Year: Chekhov International Theatre Festival;
Cultural Figure of the Year: Diana Vishneva;
Best Cultural and Entertainment Center: Garage Museum of Contemporary Art;
Humanitarian of the Year: Sergei Parkhomenko;
TMT Online Readers' Choice for Person of the Year: CSKA Moscow football club head manager Leonid Slutsky.
Find more information about the awards and nominees at www.themoscowtimes.com/awards2015.