National Geographic Russia Presents "The Most Amazing"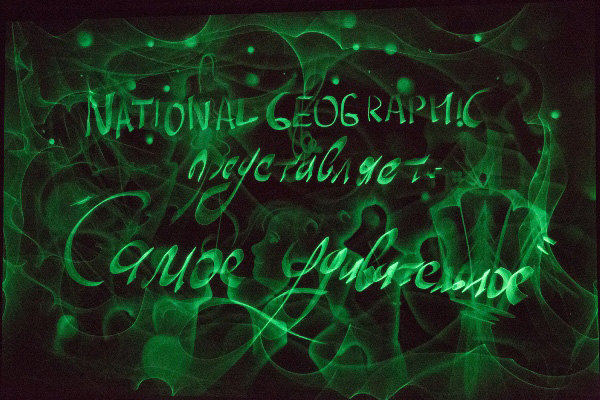 National Geographic Russia magazine, supported by Skoda Auto Russia, opened the exhibition "The Most Amazing" on December 23 in the small hall of the Artplay Design Center.
An intriguing program awaited the evening's guests, who included the magazine's business partners and clients. Alla Vernadskaya kicked off the evening with a thrilling light show before master of ceremonies Alexander Bunin gave the floor to National Geographic Russia editor-in-chief Alexander Grek and regular contributor Sergei Gorshkov. During the evening, the Katansky Sisters performed their illusions and guests enjoyed a contest and a drawing for prizes.
A cheerful mime along with magician Damir Valitov from the Surprise Me television program kept spirits high throughout the evening. The program closed with the cover group Spot Light Band performing a rousing selection of popular hits. The "Give a Tree" project presented a living Christmas tree that was later returned to the forest and the Austrian Embassy treated guests to fragrant mulled wine and delicious strudel, but according to guests, the highlight of the evening was a custom-made cake from confectionery Tortel.
The exhibition, which has already had a run in St. Petersburg, is divided into seven thematic zones: Introduction, Phenomenon, Life, Places, Objects, Moments and Images by Russian Photographers. Visitors can view 100 exclusive photographs capturing a variety of unique moments in the lives of wild animals and humans, including the rare double rainbow, storm clouds before a tornado, beekeeping several dozen meters up, and lace-like patterns on the edge of a sea that glow neon blue from underwater microorganisms.
The exhibition runs until January 31 at the Artplay Design Center at Ulitsa Nizhnyaya Syromyatnicheskaya 10, building 7. It is open daily from 10:00 a.m. to 9:00 p.m. and welcomes guests of all ages. Admission is 350 rubles for adults, 150 rubles for university and school students and free for people with physical disabilities, WWII veterans and children up to six years of age (inclusive).
The Kultura (Culture) and OTP television channels aired footage of the exhibition's opening ceremony.