Men's Health in January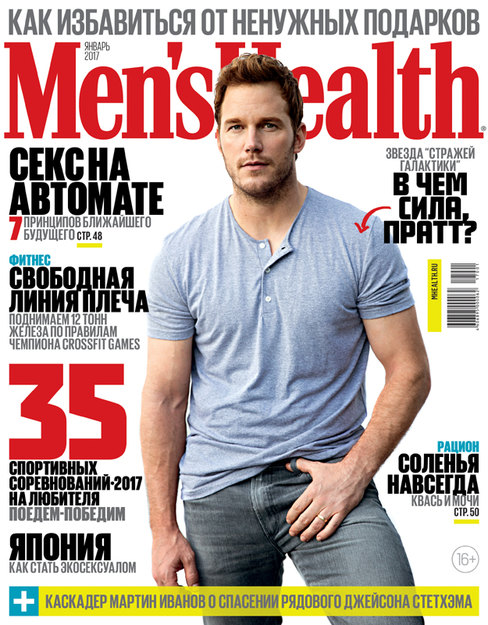 Late December is the best time to make plans for the coming year. The January issue of Men's Health offers readers a list of 35 of the best and most interesting amateur athletic competitions of 2017 that are open to everyone. Choose your sport, train, compete, win, and share your achievements with the magazine, which will publish the best stories.
In the article "Something Like That," editors look at 10 trendsetting male "types" from pop culture and politics and try to determine what makes the coolest so cool. In the Iron column, find out everything you need to know about the world of VR devices. In the Personal Trainer column, Cross Fit Games champion Ben Smith shares the secrets of his physical prowess.
The cover features actor Chris Pratt, who stars in the movie "The Magnificent Seven" and two major films set to premiere in the coming year – "Passengers" and "Guardians of the Galaxy Vol. 2."
Also in this issue:
Tactics and techniques for indoor climbing;
Seven ways to get rid of nice but unnecessary things;
A journey through history to see how Alexander II smoked a hookah;
A short guide to curing a chronic cough;
A review of the best board games for passing the time with friends this winter;
Three invaluable tips on how to stay warm if you are stuck out in the cold;
Reflections on whether virtual sex is considered cheating;
Stuntman Martin Ivanov on drowning Jason Statham;
Russian motocross, mountain bike free ride, and FMX athletes talk about the nuances of their sports;
In the There is a Place column, learn about cage diving near the South African town of Gansbaai;
One of the magazine's writers describes how he tried to save 686 minutes per week;
A colorful story about the amazing microorganisms that live in and on our bodies;
Chief editor Maxim Semelyak describes his journey to the Japanese island of Kyushu.
The magazine went on sale December 13.