National Geographic Russia Selects Best Photographers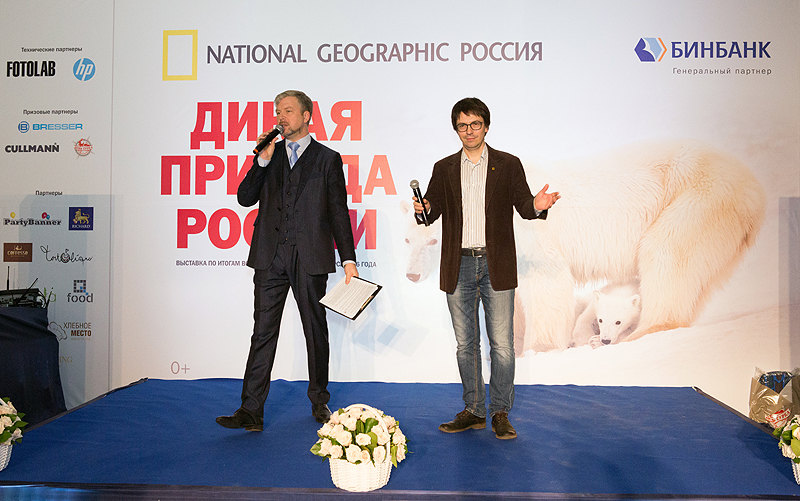 National Geographic Russia magazine has chosen the winners of the 2016 Wildlife of Russia photo contest. The awards ceremony and the opening of the exhibition of the winning photographs took place on December 29 at the Central House of Artists on Krymsky Val in Moscow. B&N Bank served as general partner to the project.
This year, more than 55,000 photographs were submitted to the competition, held annually since 2011. The works were judged in 13 categories, as well as a special category, Life Energy, sponsored by general partner B&N Bank, which invited readers to submit photos illustrating the unbending will of nature.
The finalists, winners, and Grand Prize winner were announced at the opening of the exhibition. This year, Sergei Korolev of Murmansk took the Grand Prize of 300,000 rubles for his photo "Tulomsky Foibles."
Popular TV host Valdis Pelsh was the emcee for the awards ceremony. On hand to present the awards were Andrei Palamarchuk (National Geographic Russia editor-in-chief), Sergei Gorshkov (wildlife photographer and contributor to National Geographic Russia), Kirill Samursky (photojournalist, traveler, and contributing writer for National Geographic Russia), Andrei Kamenev (National Geographic Russia chief photographer), and Damir Battulin (member of the B&N Bank board of directors). A number of special guests also attended the awards ceremony: Ivan Zatevakhin (author and host of the popular scientific program "A Dialogue about Animals), Mikhail Kozhukhov (president of the Mikhail Kozhukhov Travel Club), Sergei Dolya (well-known blogger and traveler), and Leonid Kruglov (documentary filmmaker, photographer, and journalist).
The winners for each category are:
Birds: Dmitry Velyunov (Smolensk), The First Chick
Underwater: Konstantin Novikov (Podolsk), Atlantis
Young Talent: Daria Timokhina (Moscow), Golden Vortex
Nature in Black & White: Daria Selivanova (Moscow), Outlived the Dinosaurs
Russian Nature Reserves: Alexander and Natalia Fedosov (Korolev), Seeing Off the Evening Sun
A Story in Pictures: Yevgeny Polonsky (Astrakhan), Swimming Hole for Wolves
Mammals: Irina Polozkova (Moscow), They've Arrived!
From Dusk Till Dawn: Vladimir Voichuk (Klin), When a Volcano Doesn't Sleep;
Mothers & Their Young: Gennady Yusin (Moscow), Unexpected Addition
Landscape: Sergei Korolev (Murmansk), Tulovsky Foibles
Macro: Anton Grigoryev (Moscow), Part of a Large Dandelion
Life Energy (sponsored by B&N Bank): Yury Sorokin (Lipetsk), 'Martian' Landscape in the Temperate Zone
The Prima choreographic ensemble performed at the opening and closing segments of the event. The official partners for the opening included The Bread Place, May Company, Bankatering caterers, Petite Polly Baker and Tortolyano confectioners, Royal Water, the decoration department of the Zoom photo theater, and internet portal PartyBanner.ru. The Groundhog Day chain of stores and A Photo, Studio 52, and Bresser contributed prizes for the winners. The 500 Lux company provided lighting for the photo exhibition.
The exhibition was on display in Moscow through January 14 and, following a run in St. Petersburg, will embark on a tour of Russia's regions.