Men's Health in February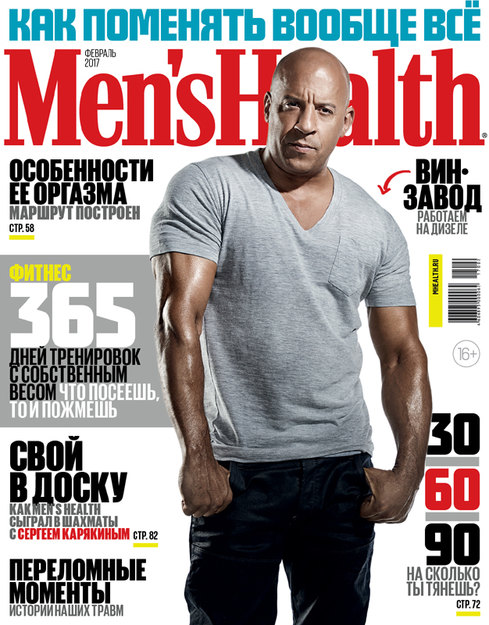 The February issue of Men's Health magazine features Vin Diesel, who turns 50 this year, and the feature story "20, 30, 40, 50+" looks at how men age.
The February issue also includes the premiere of the section, Locker Room, in which non-professional athletes offer their candid thoughts right after working out. The first celebrity to appear in the series is showman and TV anchor Mikhail Shats.
Readers will also find an action-packed story of how one MH editor struggled with Sergey Karjakin, who recently lost to Norwegian Magnus Carlsen in a hard-fought battle for the World Chess Championship title, as well as a an interview with Gravity film star Alexander Petrov.
The Personal Trainer section kicks off the annual training program with a focus on body weight, and the Iron section looks at five modes of transportation that deserve your attention this winter.
Also in this issue:
What to do if your girlfriend wants to get a tattoo, and you are against it;
A look back at how athletes from the Soviet Union took the Olympic bobsled gold in 1988;
An overview of the wildest alpine ski runs;
A quick guide for those who need to get more sleep;
An overview of the best wireless earbuds;
The tough choice between group workouts and employing a personal trainer;
An attempt to understand the nature of e-sports;
Eight reasons to love Peruvian cuisine;
Reflections on Mohammed Ali, who would have been 75 this year;
In the There is a Place column, a Papua New Guinean village with round bread;
A gastronomic guide to the most delicious Russian cheeses;
An article on preventing and recovering from sports injuries;
An MH editor tries working in a stable in the Moscow region.
The magazine is out now.