National Geographic Traveler Releases New Issue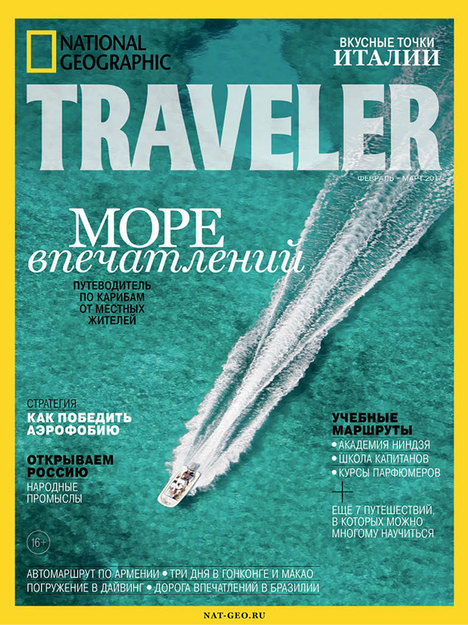 In the new issue of National Geographic Traveler magazine:
Strategy – How to overcome aerophobia? If to believe the statistics, one in three people reading this are afraid of flying. The same statistic indicates that all of them could overcome that fear. The treatment is quick and generally successful – if the patient is committed.
Guide – Local residents of the Caribbean explain where to drink rum, find secluded beaches, and watch the sunrise. The Caribbean contains 7,000 islands, each one of which is a world unto itself. How do they differ? Which is best to visit first? Local residents share their answers.
Report – Emilia-Romagna: Italy's most gastronomic region. While each region in Italy has its own special dishes, recipes, and traditions, Emilia-Romagna has given the world much of what is now considered classic Italian cuisine: Parmigiano-Reggiano, prosciutto, pasta Bolognese, and lasagna.
Discover Russia – Cottage industries: where can you learn to paint toys and see how down jackets are made? Folk handicrafts make great souvenirs and are an excellent way to learn about Russian traditions. The magazine showcases handicrafts that offer a new angle on Russian folk customs.
Three Days – A weekend in Hong Kong and Macau. Don't overlook these very special regions; you can only understand their uniqueness by making a special trip there.
Photo Report – Travel through northeast Brazil. In a country of white states and wild monkeys, beautiful roads are given names. And although Brazil is full of interesting places, there is one road that is far richer in impressions than the rest: it stretches for approximately 1,000 kilometers through three equatorial states, from Sao Luis to Fortaleza.
Archive – The London of two centuries past and today.