National Geographic Traveler Releases Spring Issue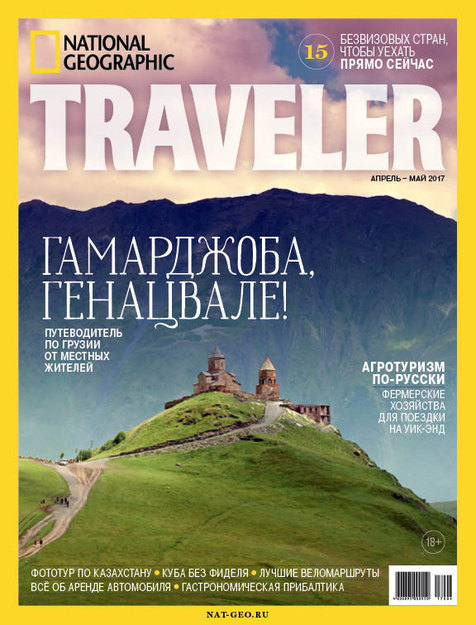 In the spring issue of National Geographic Traveler, readers will find:
Views of the Water – While beaches all seem to look alike, some are in fact rather extraordinary, from lagoons with black sand to coves strewn with mysterious rock formations. NGT looks at the most picturesque of them.
The Right to Drive – Having a car while traveling is not a luxury, but a guarantee of freedom of movement. NGT tells you all the pros and cons of renting a car, and will quickly dispel your fears if you think that renting a car is difficult, inconvenient, and expensive.
A World Without Borders – The joke about the man who judged his life a success because he used his international passport to dine out in another country every Friday is only poignant if you know which countries you can visit that way. NGT compiled a list of the most interesting countries that do not require a visa – destinations you could visit as soon as this evening.
Mojito Without Lime – When Fidel Castro died, everyone began making predictions about how quickly the Cuban regime would fall, what would happen to tourism, and whether Cuba would lose its charm. It turned out, though, that the process of change started almost a decade ago. At the same time, many Cubans are certain that the situation on the "Island of Freedom" will remain the same forever.
Georgia: Reset – One of the obligatory toasts at a true Georgian meal is "To good memories!" A survey of local Georgian residents and experts convincingly proves that after a trip to this unforgettable country, you will have at least 17 such memories to toast.
The Route Through the Stomach – The Baltics is the new "in" place for gourmets and foodies. In a new column, the magazine offers three options for gastronomic travel around Latvia, Lithuania, and Estonia for those who are hungry for fresh impressions, and there's something for everyone's taste.
The Country of the Great Steppe – Mountains and lakes, canyons and steppe, dense pine forests and sun-dried valleys – the landscape of Kazakhstan is impressive not only for its beauty, but also for its diversity.
Discovering Russia – Ostriches in a monastery courtyard, Edith Piaf in a barn, Calabrian cheese-makers in the Tver countryside, an African catfish farm in a 19th-century German estate: the young Russian agrotourism industry is known for its international character and love of experimentation.
Pedal Power – While bicycles are good for trips around town, they're also great for short outings to the countryside. NGT reinvents the two-wheeler and explores the most scenic cycling routes in the world.
The issue went on sale April 18.