National Geographic Traveler Releases Summer Issue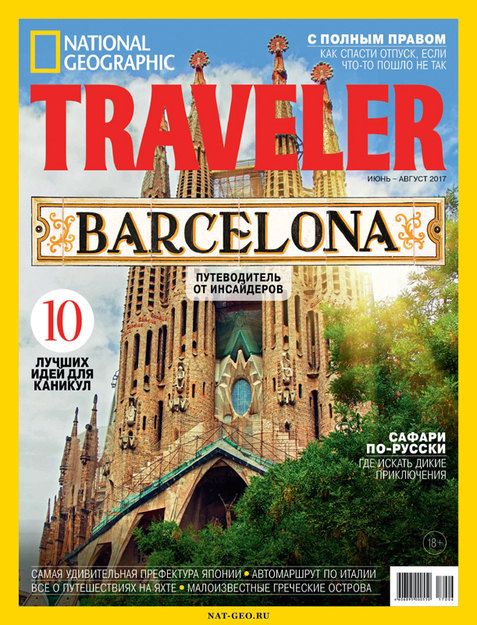 In the summer issue of National Geographic Traveler:
Let's All Go to Court! – Even seasoned travelers sometimes face unpleasant situations. At such times, it is most important to know your rights and be prepared to defend them. So, what if…
A Child's Paradise – Ten great vacation destinations for the whole family.
Avant-Garde Fashion – Barcelona is a place that people like to visit repeatedly. But what if they have already strolled every alley in the Gothic Quarter, visited all the bars in town, and explored every possible corner of the Montjuic? Locals and frequent visitors to the city share their favorite and secret "finds".
Ode to Joy – Okinawa Prefecture is a place so strange and surprising that even the Japanese themselves consider it exotic. When people from the outside world visit Okinawa, they feel as if they are at the Mad Hatter's party. How could it be otherwise on an island where joy is the very meaning of life?
At the Crosswinds – An NGT correspondent served as a volunteer guide at the Kurils Nature Reserve, where she lived at a ranger's station for several months and led tourists along the caldera of the Golovin Volcano.
Animals Everywhere – One needn't go on an African safari to see amazing creatures: there are nature reserves in Russia with animals that are no less exotic and remarkable. The magazine highlights several nature conservation areas where visitors can view animals in their natural habitat.
Land of Contrasts – Sand-covered trails and long lost traces of trade caravans, deep canyons and giant trees, traditional Native American settlements and modern metropolises in the middle of the desert – the American West has fallen deeply in love with itself, and for good.
Of Dreams and Masts – Contrary to stereotypes, yachting is not as expensive, time consuming, or dangerous as people imagine. You don't need any specials skills, long vacation breaks, or enormous sums of money – or even a yachting license. Furthermore, visiting ordinary travel destinations on a yacht opens up a whole new perspective.
The issue went on sale June 20.