Popular Mechanics in July: Race to the Moon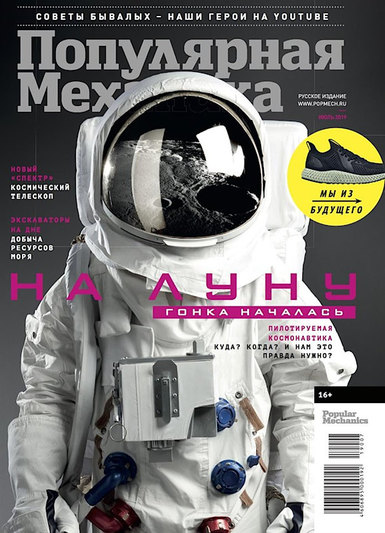 Half a century has passed since the first moon landing, and the world's major space powers are again setting their sights on the Earth's largest satellite. For the July issue of Popular Mechanics, journalist Mikhail Kotov wrote a survey of the programs for conquering the moon — the American, Chinese, Indian, and, of course, Russian.
Also in this issue:
Astronomer Vladimir Surdin explains where manned spaceflights are possible and why they are needed.
Video bloggers from the forest: survival experts explain how to make a spoon from polyethylene and catch fish with nettles.
Spectrum-RG: the Russian space telescope that will use hard X-rays to make the most detailed map of the sky.
Deepwater excavators: the prospects for and risks inherent in developing the resources at the bottom of the seas and oceans.
Botkin.AI: a Russian start-up is creating artificial intelligence that can diagnose lung cancer.
Boeing — Airbus: a battle of innovation. Big data, giant airplanes, and carbon fuselages.
Also: a test drive of the KIA Proseed GT, historical patterns in the development of unmanned aircraft and an article about why cats meow with an accent.
The issue is already on sale.