Harper's Bazaar in July: To Greater Heights!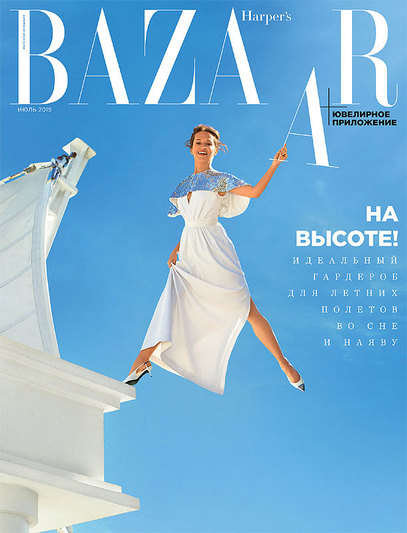 Alicia Vikander graces the cover of the July issue of Harper's Bazaar. This release contains material about her and a photo shoot for which the actress had to fly to great heights.
The Cinema section contains a short interview with Seth Rogen. The actor told Harper's Bazaar about the comedy "Long Shot" in which leading lady Charlize Theron fights for the presidency, and a would-be journalist played by Seth Rogen — for her heart. And Oscar winner Christian Bale offers advice on how to add variety to your life in July.
The Harper's Bazaar jewelry supplement presents seven new jewelry brands, shares four stories about fake jewels, and examines gems from A to Z.
Also in this issue:
Le Corbusier Fondation Director Brigitte Bouvier on the importance of experimentation, the race against time, and the new head of the Rado True Thinline watch collection that has become a tribute to the color system of the legendary architect.
The owner of the largest collection of vintage jewelry in Europe and Vintage Dream boutique owner Olga Leffers who is obliged to live in the past, but who also looks into the future, mastering the field of fachion tech and preparing an exhibition devoted to Hollywood. Dior Creative Director Maria Grazia Chiuri tries her hand at an absolutely new but not entirely unexpected role: designing the costumes for the Nuit Blance one-act ballet that is set to the music of Philip Glass.
Classic and avant-garde modern art at the Fondation Louis Vuitton collection exhibition that opened in the Pushkin Museum on June 19.
Why designers have yet to cast off sex from the ship of modern fashion and whom we should seduce in 2019.
Five reasons to go to Bodrum.
The issue is already on sale.