Cosmopolitan + VKontakte: Digital Issue 2.0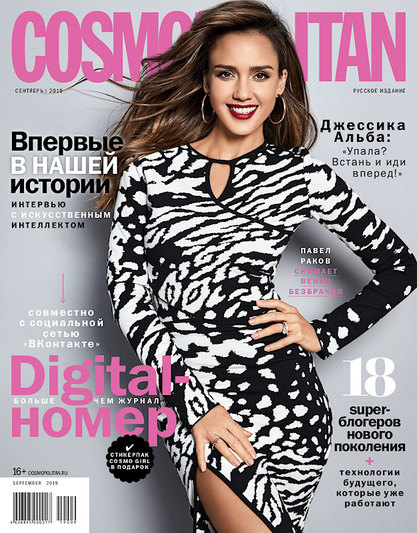 Cosmopolitan and the VKontakte social network teamed up to present their second joint digital issue. Like last year, readers will find bloggers and influencers of the new generation, as well as supplementary material published on the VKontakte platform.
For this issue, editors chose to feature actress Jessice Alba who has more than 15 million subscribers on social networks. They also take a look at each of the magazine's regular columns through the prism of digital and, in a first for Cosmo, conducted an interview with artificial intelligence in the "person" of the anthropomorphic robot Alisa created by Neurobotics. Also, digital influences with millions of subscribers took part in the issue's main photo shoot, "The 5G Generation."
Additional video content was also created for most of this month's material: interviews, backstage views, beauty quizzes, fashion tips and much more. Readers can access this material on the VKontakte site by scanning a special QR code on the pages of the magazine.
A nice bonus is also in store for readers: the first 20,000 to scan the QR code will receive a complimentary Cosmo Girl sticker pack. The heroine of the sticker pack is a real Cosmo Girl expressing a range of emotions. Readers can also purchase the pack in the VKontakte sticker store.
The September digital issue of Cosmopolitan went on sale August 13.