Cosmopolitan in October: Exclusive Interview with Angelina Jolie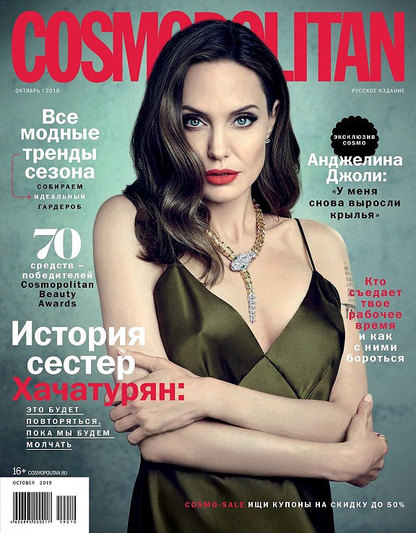 Actress Angelina Jolie appears on the cover of the October issue of Cosmopolitan. After a four-year absence, one of Hollywood's brightest stars has returned to the big screen in "Maleficent: Lady of Darkness," slated to be released in theaters on October 17. In her only interview with a Russian magazine before the premiere, Jolie spoke to Cosmo about children, her acute sense of justice and having wings.
One of the main articles of this issue is the story of the Khachaturian sisters. Cosmo spoke with their mother and friends in an attempt to sort out this high-profile tragedy of domestic violence.
Also in this issue:
All of this season's fashion trends: assembling the perfect wardrobe.
70 products – the winners of the Cosmopolitan Beauty Awards.
The right way to save money and dealing with colleagues who interfere with your work.
Business and musician Emin Agalarov explains the secret behind the success of the Zhara (Heat) Festival.
The inspiring example of Mariinsky Theater prima ballerina Diana Vishneva.
A psychologist dispels the most enduring myths and stereotypes about relationships and sex.
The reason for the good news that older models are now appearing in fashion shows.
How to recognize obsessive-compulsive disorders in yourself and others, and where to seek help.
The issue is already on sale.