Family Values and Good Housekeeping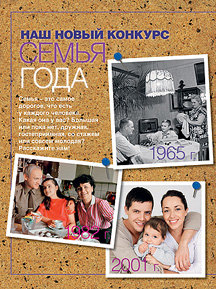 Our family is the most important thing in our life. What is it like? Is it large or small, friendly and hospitable and loyal? No matter what it is like, this union is based on the immortal value called Love.

The magazine Good Housekeeping has offered its readers the chance to tell about their families. Intermediate results of this contest will be published each month, choosing and awarding the "Family of the Month". The overall winner will get the title "Family of the Year" and the main prize at the end of 2008. The authors of the most touching stories will be invited to the final awards, where the jury will announce the winner.

The project is supported by commercials on the Radio Alla station. The official sponsor of the project is the bank Russian Standard.

The contest starts in February 2008 and will last till the end of December 2008. Each of 11 issues of the magazine will publish information about the contest, the photos of the contestants and the story of the Family of the Month. In addition, there will be TV announcements on the Channel One during the program "Poka Vse Doma".