Cosmopolitan Shopping in St. Petersburg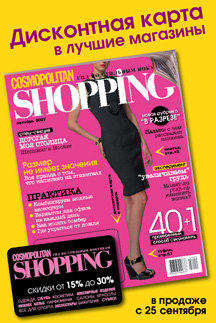 October is marked by a promo action of Cosmopolitan Shopping, taking place in PIK, the biggest shopping mall of St. Petersburg. This action is timed to the third anniversary of the magazine. During the next three months, shoppers at PIK will find items with a special label reading "Cosmopolitan Shopping Recommends", which were chosen by the experts of this edition.

The purpose of this promo is to provide customers with maximum comfort while shopping, as Cosmopolitan Shopping defines itself as the country's number one style guide.

Apart from that, there are special promotional bars in the shopping mall, and banners with the cover of October's issue have been placed outdoors.