Discounts in the Best Shops!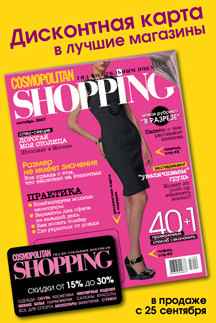 A special card offering 15-30% discount in the best shops of Moscow, St.-Petersburg, Ekaterinburg, Novosibirsk, Nizhni Novgorod and other Russian cities is pasted on the cover of the latest issue of Cosmo Shopping. This gift to readers is meant to mark the magazine's 3rd anniversary in Russia. The Cosmopolitan Shopping card offers discounts in October, before the seasonal sales have begun.

13 famous network brands are taking part in the project. These are L'Etoile, Lady Collection, Sunie Li, Sultanna Frantsuzova, Nomination, Kira Plastinina, Oasis, Karen Millen, Colours&Beauty, LO, Intersport, Intimissimi and Persona LAB chain of beauty parlors. More than 700 shops from all over the country are participating in all. Promotional materials of the magazine (special labels, wobblers and leaflets) will be placed in each shop during the sales of October issue.

This action is supported by a huge advertising campaign. More than 300 cities-formats are placed in Moscow and St.Petersburg and over 70 3X6 billboards in Ekaterinburg. Commercials are broadcast on the Moscow radio station Megapolis FM. Cosmopolitan Shopping is also sponsoring the program Style Guide on MTV in October.