Women Driving!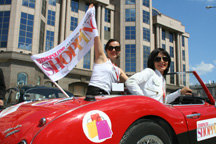 The second female rally of retro-cars took place June 23rd, right in the center of Moscow. The start and the finish were marked near the Blue Elephant restaurant in Novinsky Passage, and more than 20 teams took part in that event. Only women were driving the cars. Russian celebrities from mass-media and the movie industry, pop stars and business ladies spared no effort to win the race. TV presenter and singer Anita Tsoy, singers Alyona Sviridova, actress Vera Glagoleva, TV star Tina Kandelaki and many others were spotted at the event.

Cosmopolitan Shopping was appointed information partner of the rally, and it had its own nomination, called "The Most Stylish Team". Editors-in-chief Anastasiya Pjatina and Irina Chernjak also took part in the rally as one of the teams. Our girls were driving a smart carmine Austin-Haley cabriolet. Though Cosmopolitan Shopping team failed to finish the first, Ira and Nastya have received indescribable pleasure from the race.

Cosmopolitan Shopping presented stylish T-shirts and bags to all the visitors of the event. The winner received a credit card from Alpha-bank - Cosmopolitan with 25 000 rubles for shopping. Second and the third place winners received a semi-annual subscription to Cosmopolitan Shopping.

A detailed photo essay of the event will be published in the September issue of Cosmopolitan Shopping and Cosmopolitan.