European Summer on the Coffeemania Terrace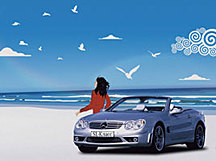 Mercedes-Benz Center, Robb Report Russia and The Moscow Times invite you to Summer Drive Mercedes-Benz 2006, an annual series of musical parties being held from 20:30 till 22:00 on July 25-26 and August 1-2 on the Coffemania summer terrace (Bolshaya Nikitskaya Street, 13). The partners of the event are celebrity magazine HELLO! and men's magazine FHM.

Summer Drive Mercedes-Benz will be held in Coffeemania for the second straight year. Its popular and comfortable terrace attracts those Muscovites who don't rush home after work to lie on the sofa and watch television, but go to their favourite cafe to chat with friends and relax.

Nothing else but a cozy place, high quality service and cuisine makes us feel good. We also feel good when we travel, and especially when we drive a Mercedes, the quality car for life and leisure... Thanks to Mercedes, guest will get a chance to travel from Moscow to Rio de Janeiro and from Paris to Los Angeles.

The journey will be accompanied by a musical atmosphere consisting of bossa nova, rhumba, ska jazz, classic dixieland and French chanson. The music will be played live by:


Le Fille - on July 25

Moscow Jazz Band - on July 26

Latin Rey - on August 1

Chattanooga Ska Orchestra - on August 2.

Enjoy the coziness of a European coffee house in the very heart of the busy and noisy city!