Robb Report's Ideal House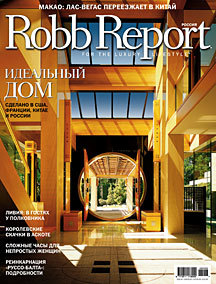 The June issue of Robb Report is traditionally devoted to architecture and design. For the third straight year, the magazine has made a "photo blueprint" of the virtual "ideal house," presenting the most interesting design solutions for living rooms, kitchens, bedrooms, garages and other areas of residential and non-residential buildings. Authors don't try for the stylistic unity of the "house" but follow only the originality of ideas which in their turn can give ideas to readers. In addition, one the the magazine's experts visited the annual International Furniture Salon I Saloni, which was held in Milan at the beginning of April, and shares impressions on the current trends in interior design.

The issue also includes an article on Royal Ascot, the most prestigious horse races in the world. The races are an obligatory event in the calendar of high society, visited even by the British Queen. Robb Report relates the history of this event, legendary horses that have competed and the rules of the strict dress code with some useful advice on adhering to them.

And of course, in this issue as in every other, Robb Report's favorite topics: watches, jewelry, and wines.