Domashny Ochag Festival at Moscow's Central House of Artists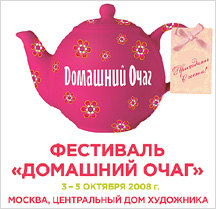 The second Domashny Ochag Festival will be held October 3 to 5 at Moscow's Central House of Artists on Krimsky Val. Organizers have brought together many interesting things, original ideas and invited interesting people to the event. Bring the whole family: It will be cozy, attractive and intriguing -- nobody will have a chance to get bored!
The first festival was very successful, with more than 15,000 guests attending. Children enjoyed examining new games and rollicking in a special children's play room. Women stocked up on useful ideas at a culinary master class and open beauty salons, and browsed among stalls where Domashny Ochag's friends and partners offered their services and products. Men checked out the exhibition and relaxed in the video hall. Organizers decided to make this year's festival even more interesting and rewarding.
This year, all of Domashny Ochag's guests will feel right at home, thanks to the event's new concept. Just as you would find in a nice big home, the festival will include several open zones: a kitchen, living room, children's room, boudoir and garden room. The men's territory will be especially interesting, with complete information provided on all forms of recreation for men -- from fishing and hunting to the latest technological gadgets.
In the kitchen, outstanding chefs will prepare their delectable dishes, and share their recipes and secrets of their craft. Yulia Vysotskaya will announce the results of our "Home Cooking" contest, hand out prizes to the winners and sign copies of her books. Festival visitors will also be able to eat lunch or enjoy snacks at two working cafés.
The living room is the coziest place in the home, the room where people can calm down and relax. TACH Textiles will offer guests the opportunity to participate in an art contest titled "Draw Your Own TACH." The whole family will be able to play Hasbro's intriguing and clever family games, try miniature golfing, attend a lesson on home repair and gardening conducted by OBI Company, and enjoy many other instructive activities. Visitors will also be able to buy interesting items for the home and consult with interior designers.
The boudoir will be a favorite with anyone who follows the newest trends in cosmetics. Guests will have a chance to pose questions to cosmetologists, take a master class on applying make-up, get a manicure and a hairdressing, and acquaint themselves with the latest cosmetics products.
In the Health Zone, visitors will be able to try a massage chair and consult a doctor and psychologist. SPA Palaestra will offer guests an opportunity to try an exotic SPA ritual that the company created in cooperation with Domashny Ochag Magazine. Visitors will also have chance to experience a Thai massage session.
In the Children's Zone, the first all-Russia children's television channel TeleNanny will conduct its enchanting school and prove that "Studying is not always boring!" The novel school will teach young participants to draw, make unique curios and to speak English. Professor Know-It-All will field children's questions, and the high-spirited Jump-Skip crew will get everybody moving. Every student will also receive personalized certificates of completion from the TeleNanny school.
The Nintendo Company and New Disk will host an Entertainment Zone offering educational computer games, Disney Studio games, and useful computer programs for the whole family. Specialists will help parents choose the most appropriate games for their children, make recommendations on which kinds of computer activities are best for kids, and give advice on how to avoid computer dependency. People will be able to play virtual tennis or fight a virtual boxing match. Girls will be delighted to see this New Year's line of Barbie dolls. In addition, since this year marks the Chupa-Chups lollipop company's 50-year anniversary, guests will learn of the history of this tasty candy and receive complimentary sweets.
The garden room is not only a place to rest, but a place for creativity. The OBI Company will conduct special master classes on gardening and home repair. Young guests can look forward to entertaining contests, useful gifts and a chance to take a picture with the OBI Beaver!
Financial and legal consultations will also be available at the festival. ING Life Insurance will provide visitors with consultations on personal financial planning and life insurance. As an added attraction, guests will be able to view the ING Renault F1 Team's racing car.
And, as always, Domashny Ochag's reception room will be open to all the participants throughout the course of the festival. This is the place to see the invited guests - actors, writers and other celebrities who grace the pages of our magazine.
On the festival's opening day, October 3, Domashny Ochag, together with the OBI chain of building supply stores as its official partner, will introduce the Home Garden project. Using specially prepared flowerbeds, famous families invited for this event will create unique garden arrangements for beautifying the home and dacha.
In addition to admiring the "famous" gardens, all festival participants will be able to create similar arrangements later at their own homes or dachas. As everyone knows, plants not only delight the eye, but bring a wholesome influence to the general atmosphere at home. And cooperative work for the common good will make harmonious families even stronger.