Domashny Ochag Festival - The Brightest Event of Autumn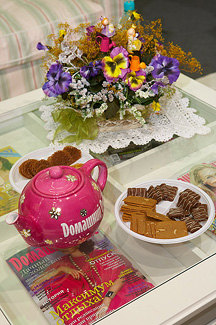 The Second Annual Domashny Ochag Festival was held from October 3 to 5 at the Central House of Artists on Krimsky Val. Without a doubt, it was the brightest event of autumn 2008.
Over 20,000 people attended the Domashny Ochag Festival, and more than 100 participants displayed their products during the event. The 4,000 square meter space was put to creative and practical use by dividing it into zones of interest: living room, kitchen, bedroom as well as separate children's and men's zones.
Guests found plenty that was new and interesting. Men took great interest in checking out the new audio and video technology on display, tools for home improvement and construction, and during the breaks, learned the basics of miniature golf. Women attended a great number of culinary master classes, enthusiastically copying down original recipes from famous chefs, learned the art of applying make-up under the tutelage of leading make-up designers, and participated in the contest "Alla is Looking for Talent!" sponsored by the Alla radio station, owned by singer Alla Pugacheva.
IKEA, one of the festival's official partners, conducted a promotion offering visitors to their display the opportunity to join the IKEA Club and receive discounts on all future purchases at their store.
Children had the most fun at the festival, enjoying a wide range of entertainments and activities. The Magic Company put on an entertaining children's program that included a puppet show and a master class on making balloon sculptures, a bubble show, gifts and surprises and much more.
In the "Enchanted School," members of the TeleNanny TV station taught children to draw, make curios and speak English. TeleNanny representative Sergei Yefimov said, "For us, the festival is a splendid opportunity to speak directly with our viewers and to find out what is important and interesting for them, and to see their reactions to what we do with our own eyes!"
Many famous and popular people were invited to the festival, such as the psychic Mikhdi, the group Reflex, radio show hostess Rita Mitrofanova, singer Diana Gurtskaya, actress Yelena Vorobei and many others. A meeting was held in the Domashny Ochag reception area with Irina Khakamada, Yevgeny Malakhov, and the hosts of the television channel Domashny Alexander Seleznyov and Ace. Guests showed a great deal of interest in Rosa Sabitova, professional matchmaker and guest expert on the Channel One program "Let's Get Married."
On the festival's opening day, Domashny Ochag, together with the OBI chain of building supply stores as its official partner, introduced the Home Garden project. Using specially prepared flowerbeds, famous families invited for this event created unique garden arrangements symbolizing the festival that were appropriate for beautifying the home and dacha.
OBI Marketing Director Tatyana Okutina said, "For us, the Domashny Ochag Festival is a new stage in establishing a relationship with our buyers. This is the first time our magazine has 'taken it to the street.' We highly value such an opportunity, and we appreciate the personal and creative approach to people Domashny Ochag has shown at the festival."
ING Life Insurance Company was among Domashny Ochag's major partners participating in the festival. ING Managing Director Jetse De Vries spoke at a press conference at the festival's opening. "We are happy to find ourselves among those who are preserving good housekeeping," he said. "ING Life Insurance Company has 85 million clients. The festival's organizers and ING have a common goal - protecting families and their futures," he said.
Domashny Ochag's second festival is now behind us. Maria Vinogradova, Domashny Ochag's Publisher and Editor in Chief, said, "We want the Domashny Ochag Festival to become a truly warm, family-oriented celebration. And now, looking at the happy children carrying multicolored balloons and their parents heading home with bags full of purchases they made here, I realize that is what has happened. Guests took home not only the fine mood of the festival and numerous impressions, but most importantly - faith in their own home lives."
"Will we be coming here next year?" asks a little boy standing in the lobby of the Central House of Artists and wearing a new cap he was just given. "Of course!" his parents answer in one voice. "Only next time, let's bring grandma, too!" the boy happily responds as he releases his red balloon to float up to the ceiling.
Domashny Ochag would like to thank all the participants, organizers and guests who created this festival together with the magazine's staff. Thanks to our unity and creative approach, the Domashny Ochag Festival was truly lively, cheerful, interesting and unforgettable.