Celebrity Home Gardens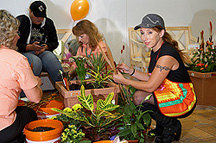 On October 3, Domashny Ochag and its official partner, the OBI chain of building supply stores, introduced the Home Garden project as part of the magazine's annual festival. Using specially prepared flowerbeds, famous families invited for the event created unique garden arrangements appropriate for beautifying the home and dacha.
The celebrities were handed flowers, decorative items, gardening tools, watering cans, smocks and gloves. The celebrity gardeners then proceeded to fashion their floral arrangements before the eyes of the festival guests and assembled journalists representing leading media outlets.
Celebrity gardeners included Diana Gurtskaya, Elena Vorobei, Pyotr Drang, the music group Reflex, Galina Sazonova, Rita Mitrofanova, the psychic Mikhdi and others.
In addition to admiring the "celebrity" garden arrangements, festival participants could create similar arrangements later at their own homes or dachas. As everyone knows, plants not only delight the eye, but bring a wholesome influence to the general atmosphere at home. And cooperative work for the common good will make harmonious families even stronger.