Robb Report to Take Part in Millionaire Fair 2008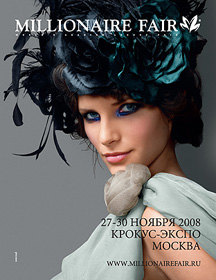 The guidebook to the world of high standards, Robb Report Russia, will take part in the fourth Moscow luxury exhibition Millionaire Fair 2008, to be held at the Crocus Expo International Exhibition Center from November 27 - 30, 2008.
The Millionaire Fair has already been held successfully in several cities around the world, and has only recently become an inseparable part of Moscow's autumn scene. The huge Crocus Expo Center will once again be transformed into a veritable paradise for those who value luxury and unsurpassed quality. The world's leading luxury-class companies will present their unique goods and services, premiere their latest products and exhibit limited collections of world-famous brands. As many as 250 brands from the Premium and De Luxe class of goods will be shown at the Millionaire Fair 2008, where more than 50,000 guests are expected.
Robb Report Russia magazine invites guests to visit its stand at hall number 12-м, where they will be able to view the latest issue of the magazine, look at Art & Antiques magazine, a new publication for collectors, and peruse the Book of Yachts - a joint publication by Robb Report Russia and the Infiniti company. The stand will offer guests intellectual diversion and a refined, informal atmosphere.
Only at Millionaire Fair 2008 will it be possible to see the latest premium class automobiles, including the Aston Martin 2008 Vantage, the Volvo C30 sport coupe, the new Hummer H2, the Cadillac CTS 2008, the Infiniti EX 35 2008, and many others makes and models. Of no less interest will be the yachts - even during this pre-season showing. The Princess and Timmerman companies will draw back the veil on the secrets behind their newest models.
Exclusive jewelry from Vivienne Westwood, Hellmuth and Platinhof will capture the hearts of even the most sophisticated connoisseurs. Furniture by Promemoria, carpets from Persian World Co., computer notebook cases from Singulum and much, much more will be shown for the first time, and only at Millionaire Fair 2008.
The 10,000 guests at the exhibition's gala opening on November 27 will enjoy an amazing fireworks display, presentations, and a fashion show by world-famous designers.