Domashny Ochag Chose a Family of the Year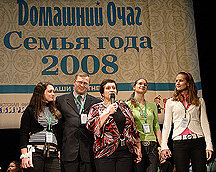 The final round of the 2008 Family of the Year competition was held on December 3 at the School of Modern Theater in Moscow. The winner was the Khanov family of Perm. Although young, this energetic couple has been together for a considerable time, and has three children - all boys.
The Khanovs showed themselves to be a friendly, loving and creative family in the fun and fair battle to earn the honored title of Family of the Year. And they were rewarded for that by winning a New Year's trip to Finland for the whole family.
Taking part in the final round of the competition were 10 families that had been chosen by the magazine as Families of the Month. They had also won prizes from Russian Standard Bank, Radio Alla and Domashny Ochag. The monthly competitions were judged on the basis of the letters and photographs each family submitted, but the magazine staff could not content themselves with selecting the Family of the Year without first becoming personally acquainted with the contestants. Domashny Ochag gathered all of the families and created challenges to test them on their unity and true feelings. Those feelings really did turn out to be true, sincere and incredibly touching. Everybody was moved to tears -- the audience, members of the jury and the contestants themselves.
There were six contests in all: a brief presentation of the family, a culinary challenge, a financial test, a children's contest, "confession of love" and a bonus competition for the hottest kiss. Without a doubt, the contestants outdid themselves for the final contest.
Each contest was judged by a jury that consisted of the Domashny Ochag editor-in-chief, Maria Vinogradova, Radio Alla host Mikhail Pavlov, Russian Standard Bank representative Yekaterina Shishkina and travel agency Labyrinth representative Yekaterina Chilikina. The families earned points for each contest, and the family with the most overall points was named the winner.
Four families finished the competition with an equal number of points, so the jury decided to award them all with prizes. They tossed a coin to decide who would win the main prize, and the remaining three families all received free trips to a swanky hotel in the Moscow region. All of the other participants won gifts from the contest organizers and their partners.
Apart from the contests, audience members and participants had a chance to enjoy magnificent songs from the musical "Karlson," which will premier in Moscow at the end of February. They were also treated to a diverse and entertaining program by the Wizard children's holiday factory - unfailing partners of Domashny Ochag. All attendees also received complimentary sweets from the Konfael company.