Robb Report and Art & Antiques at Global Luxury Forum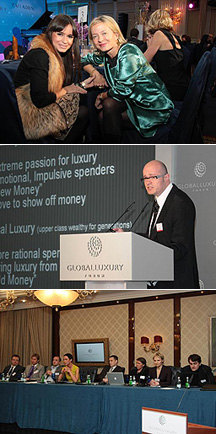 The Global Luxury Forum, organized by the Eventica company, was held for the first time in Moscow - one of the world's luxury capitals. More than 400 guests attended the event at the Ritz-Carlton Moscow on December 8. Robb Report Russia and Art & Antiques magazines acted as media sponsors of the event.
The Global Luxury Forum is the largest international conference dedicated to the luxury industry and a unique venue for professionals in that field to meet each other. The one-day conference involved participation by 40 speakers, 540 delegates and 110 journalists from Russia, Great Britain, the United Arab Emirates, Germany, Mexico, India, China, Italy and the United States. Among the forum speakers were representatives from leading companies such as Carrera y Carrera, the TSUM central shopping center, Stephen Webster, Troika Dialogue, Rosbank, Rixos Royal SPA Moscow, Kalinka Group and many others. Presentations focused on the developing luxury markets, private banking, premium class services in various fields as well as the very concept of a "luxurious way of life."
The forum ended with a splendid Global Luxury Gala - a dinner for guests and forum participants. The chief editors and directors of authoritative media companies attended the dinner, as did representatives of such high-end companies as Mercury, Bosco Di Ciliegi, Richemont, Cartier, Christie's, Chronolux, Jaguar, Boucheron, Manolo Blahnik, Kosmos Zoloto and many others.
The elegant and luxurious atmosphere of the Ritz-Carlton Moscow, the unique dinner menu and the inimitable jazz singer Paulette McWilliams combined to make the evening truly unforgettable. Every guest received a pleasing gift of the latest issues of Robb Report Russia and Art & Antiques.