Robb Report: From Extravagance to Quality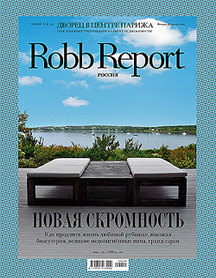 The theme of the new issue of Robb Report Russia magazine might be called "a newfound simplicity." At the same time, Russia's most authoritative magazine on luxury is far from advocating that its readers forego Maybach or fois gras, but, by giving examples of outstanding taste at reasonable prices, simply proves once again that the best does necessarily mean the most expensive.
In the magazine's first issue of the New Year, an old barn becomes a "grand old barn," transforming into a stylish architectural object, and vintage clothing experiences the era of the Renaissance. Valuable wardrobe items get a second wind, since the makers of legendary name brands are careful to ensure that their creations enjoy long lives.
According to Robb Report, a "simpler" vehicle, but a fully respectable means for beating traffic jams is the tricked-out version of the Fiat 500. The magazine also suggests Norwegian ski resorts as an alternative to the now-boring Courchevel resorts.
For dessert, the magazine prepared a selection of "great but underestimated wines," fairly believing that many people will soon choose new favorites.