Cosmopolitan Shopping Invites Readers to the Cinema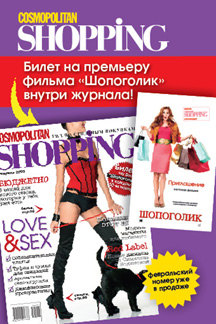 Cosmopolitan Shopping invites its readers to the movie "Confessions of a Shopaholic." The film's main character, Rebecca, is obsessed with shopping. Her finances are inshambles and her clothes closet is full to overflowing. How will she establish a semblance of order in her life? Cosmopolitan Shopping invites readers to a special February showing of the film to find out.
Every 50th issue of the magazine includes a free ticket to the showing. Everyone who would like to go didn't find a free ticket can participate in a promotional event at the Yevropeisky Shopping Center on February 1, 7 and 8.
Cosmopolitan Shopping is the film's official sponsor in Russia. That is the basis of an advertising campaign for the February issue that includes 100 city format signboards throughout Moscow, as well ads on Love Radio.