Cosmopolitan Shopping at Premiere of "Confessions of a Shopaholic"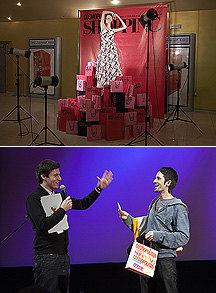 The premiere of the film "Confessions of a Shopaholic" - inspired by Sophie Kinsella's books "Confessions of a Shopaholic" and "Shopaholic Takes Manhattan" - aired at the Oktyabr (October) movie theater on February 11. Cosmopolitan Shopping acted as the film's general informational partner and invited its business partners and friends to the showing.
The movie theater's lobby resembled a real boutique that evening. Clothing samples reflecting the latest trends were on display. But the main item that attracted the attention of all the guests was the unique installation, a real work of art, created by Cosmopolitan Shopping magazine. Everybody attending the premiere tried to have themselves photographed standing in front of this backdrop.
At 10 p.m., after Love Radio DJ Maxim Privalov thrillingly announced the results of the contest, the film that all the women had been wanting so much to see finally began. Nobody left the theater disappointed. "Shopaholic" is a light, ironic film that is also about love (and not only for things). It is recommended viewing for any shopping fan among the fairer sex, as well as any of their male partners who do not resent their shopping habit. The film teaches viewers how to find love, build a career, get even with credit inspectors, become smarter, earn money and at the same time keep your conscience in tact.
The film began its run in movie theaters on February 12. All viewers who watch the film at any of the Karo Film theaters will see an advertising clip by Cosmopolitan Shopping - the magazine for real shopaholics.