Cosmopolitan Shopping at Repetto Ballet Shoe Exhibition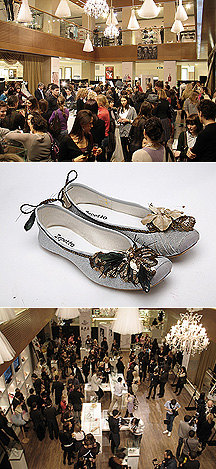 Cosmopolitan Shopping magazine was the informational partner to a exhibition of Repetto ballet shoes, dedicated to the 60-year anniversary of the brand. The exhibition runs from April 2 to 9 in the atrium of the TSUM shopping center in Moscow.
Repetto is a shoe brand that retains its fidelity to tradition while keeping pace with fashion. The brand's unique technology for producing ballet shoes gives them unprecedented suppleness and comfort. The old saying, "Sew it and turn it inside out," which was only used in connection with making gloves, has become the trade symbol that sets the Repetto brand apart from all other shoemakers. Over the 60 years of the company's existence, Repetto has collaborated with such fashion houses as Chanel, Balenciaga, Lanvin, Yamamoto, Lagerfeld, Comme des garcons and E2.
Visitors to the exhibition will be able to not only see the principle players in this show - the classic ballet shoes that started the whole thing - but also ballet skirts and Repetto's modern line of accessories. The highlights of the exhibition are the 40 pairs of ballet shoes hand-decorated by such celebrities as Bridgette Bardot, Carla Bruni, Chantal Tomass, Chloe Sevigny, Moris Bezar, Kirsten Dunst and 34 more personages of modern culture. Newly-minted Russian designers are also showcased, including the handiwork of such celebrities as Yegor Druzhinin, Pavel Kaplevich, Denis Matsuyev as well as the editor-in-chief of Cosmopolitan Shopping magazine Anastasia Pyatina.