Domashny Ochag at the "With a Book in Summer" Festival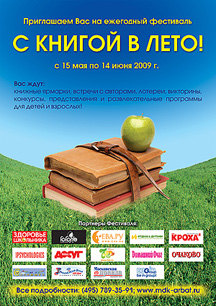 The Moscow House of Books chain will conduct its annual "With a Book in Summer" festival from May 15 through June 14 this year. Domashny Ochag magazine will serve as the informational partner to the event.
The festival gives every family a wonderful opportunity to rest, be entertained and pass the time in an engrossing way. Visitors to the festival will find an interesting cultural-entertaining program with various contests, games and musical performances.
The gala event dedicated to the opening of the yearly "With a Book in Summer" festival will be held on May 15 at the Moscow House of Books on Novy Arbat Street, building 8.
Several interesting events will be held as part of the festival. A traveling trade show will be held on May 17 on Bolshaya Bronnaya Street (near metro station Pushkinskaya). Theatrical games and performances await the youngest visitors to the festival.
A "Happy Childhood" event will be held at the Moscow House of Books on Novy Arbat Street building 8 on June 1, coinciding with Children's Protection Day. During the celebration, the results of the "Talisman of the Moscow House of Books" competition will be announced and the winner will be awarded valuable prizes.
All day long children will be treated to performances by clowns, magicians and trained animals. The youngsters will be able to participate in the "Guess-a-roo" lottery themed to children's fairy tales, a drawing contest, various games, and will have a chance to sample tasty sweets. Throughout the celebration, discounts will be offered on all books in the company's chain of stores.
In addition, an event commemorating the birthday of Alexander Sergeyevich Pushkin will be held on June 6.