Robb Report Russia: Our Home, Italy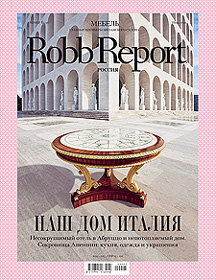 The first summer issue of Robb Report is dedicated to sunny Italy. Readers learn which culinary schools teach how to communicate in Italian better than any language course can; which Italian jewelry brands shined at an exhibition in Basel, Switzerland; and what Italian brands Canali, Artioli, Raschini, Moreschi, Belvest and Cruciani chose from their exhibitions.
The second major theme in the June issue - our home. Specially for Robb Report, decorator Bridgette Sabi has made a guide to the great styles and antique galleries of London and Paris. The magazine's editor-in-chief tells of the Four Seasons Hotel located in a Renaissance-era palazzo in Florence. A major section is devoted to a review of new products from the Milan furniture salon iSaloni, rightfully considered one of the most important events in the world of interior design.
Also in this issue:
Last year's main achievements by the Hublot watch brand;
The Jaguar is a commercial hit and was recognized by Robb Report as one of the 10 best new products of 2009;
A rifle made by the founders of Dodge Brothers, Inc. encrusted with gold, gemstones and mother-of-pearl;
A vintage 1957 Ferrari 250 Testa Rossa put up for sale by RM Auctions and Sotheby's at the Ferrari birthplace, Maranello, Italy.