Robb Report Russia at Russian Tour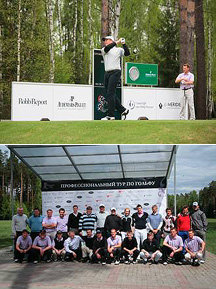 Robb Report Russia magazine is serving as the informational partner to the largest golf project of 2009 – the Russian Tour series of golfing competitions. Golfing fans throughout Russia have been waiting for the series, which began in Nakhabino on May 18.
The Russian Tour differs from club-sponsored golf tours in that representatives from any of the various clubs can take part in this competition. All of Russia's gold courses will be used for the Russia Tour.
Golf is known as the game of gentlemen, and this competition's participants include the owners of famous companies, business directors, bankers, top managers, famous politicians and celebrities from the world of show business and sports.
The Russian Tour consists of 18 tournaments. Several major events are also planned, including the Pro-Am grand finale "Russian Golf Festival" and the "Midsummer Night" nighttime golf tournament.
As part of its partnership, the Robb Report Russia logo appears on all advertising and informational materials. The magazine's advertising materials are also on display at event venues.