Domashny Ochag at Sand Sculpture Festival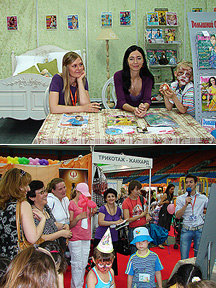 On June 7, Domashny Ochag magazine opened its Family Resort project at the Sand Sculpture Festival. The event will be held until the end of summer at the "Pharmaceutical Garden" in the Moscow State University's Botanical Garden on Prospekt Mira.
At the opening of the event, a special song was presented that became the Family Resort theme song. A fun discotheque was also held, during which youth animators taught children to dance to upbeat music. The magazine also organized a lottery for parents who purchased the latest issue of Domashny Ochag and held a variety of master classes. The favorite among the guests was the master class on sand drawing.
Domashny Ochag serves as the informational partner to the Sand Sculpture Festival. The magazine set up a special zone on the festival grounds, where arm chairs, a pool, a sandbox, beach umbrellas, reclining deck chairs enhanced the summer fun. Children and their parents can kick back and relax at the Domashny Ochag "Family Resort" after viewing the festival's sand sculptures.
Entertaining programs for children are conducted at the resort every weekend, including mini-discos, master classes on sand drawing, making figures from balloons, face painting with water colors, numerous contests and lottery drawings.